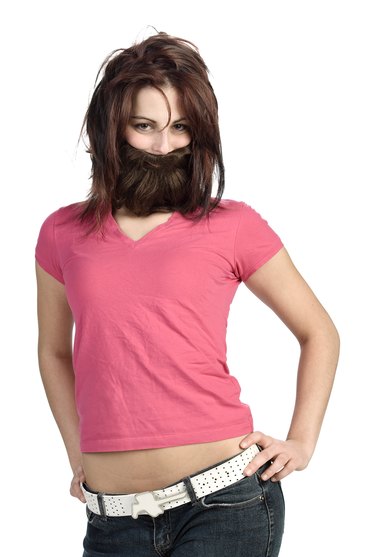 Fake beards are manufactured in a variety of materials. You can spend a little or a lot, depending on the style you want and how much you're willing to pay to sport your false facial hair. For instance, you can buy wool or fake fur from a craft store that's cheap and an easy material to work with to make your own fake beard at home. However, for the most authentic look, purchase a human hair beard from a costume shop. And if all you want is a hint of a "five o'clock shadow" or stubble, simple makeup is all you need.
Wool
Crepe wool creates one of the most realistic-appearing fake beards aside from real human hair. You can purchase it in braided strands to match your own hair color; separate the braided strands, iron the wool to straighten it and cut the wool to the appropriate length for the style you desire. With some liquid latex or medical adhesive, apply the hair in a realistic way to create a genuine-looking beard.
Human Hair
Beards made of human hair are the most natural-looking, but they can also be the most expensive when purchased in stores. Human hair's fine texture makes it harder to manipulate to make a homemade beard, and unless you or someone you know is willing to donate enough locks, it can be hard to find for your own project. However, you can purchase ready-made beards from costume stores that have adhesive already attached so all you have to do is apply it to your face.
Fake Fur
Fake fur isn't the most realistic-appearing material for a fake beard, but it is easy to find and easy to transform into the beard of your choice. Fake fur is sold at most craft stores, and you can transform a swath of it into a fake beard simply by cutting out the beard outline and attaching an elastic cord with hot glue. Measure the circumference of your head, and cut it so the cord will stretch around it. You don't need facial adhesive, and you can easily store the beard and reuse it at a later date.
Makeup
If you're looking for more of a five o'clock shadow effect than a full beard, the easiest material to use is makeup. Using a little brown eyebrow cream, a stipple sponge and some facial powder, give your face the perfect shade for a fake beard that is just growing in. Simply dab the sponge, which you can find at a makeup or costume store, into the eyebrow cream and dab the makeup onto your face. After you have achieved the desired effect, apply powder that matches your skin tone over the cream to give it a dry and natural effect.