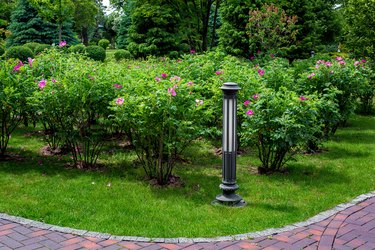 A Red Devil drop spreader is a handy tool for spreading fertilizer around your lawn. However, you have to use it properly for your lawn to grow lush and green throughout the growing season. A drop spreader allows you to apply fertilizer easily, evenly and quickly to your entire yard. First, though, you have to calibrate your Red Devil correctly.
How to Use an Older Red Devil Drop Fertilizer Spreader
First, you should determine whether you have an older or newer Red Devil drop spreader model. The lawn spreader settings will likely run only from 0 to 5 on a newer model, while an older model has settings from 0 to 12. In addition, the lever may be at the hopper rather than at the handle on an older model. If yours is an older model, you will want to use settings 6.5 to 7 to use the tool as a regular weed and feed spreader. If you're instead applying fertilizer specifically for insects, grubs and other creepy crawlers, use setting 7 or 7.5 to apply the fertilizer.
If you have any additional questions about which model you have, you should refer to the owner's manual for your Red Devil. In addition, be sure to read the particulars in the manufacturer's instructions for the fertilizer you plan to apply. The instructions will likely tell you what kind of fertilizer spreader settings to use.
How to Use a Newer Red Devil Drop Spreader
After determining whether you have an older or newer Red Devil drop spreader, you're ready to use the machine. If you have a newer model, your settings should only range from 0 to 5. For standard lawn applications, you should use a setting of 1.5. For insects, grubs and other creepy crawlies, you should use 2 or 2.5.
Once again, read the manufacturer's instructions for the type of fertilizer you're applying. This set of instructions should include the settings for achieving an even application. Remember that overfertilizing is just as bad as not applying enough fertilizer to your lawn.
Be sure you know what type of grass you have, as not all types of grass need the same fertilizer or drop spreader settings. If you're unsure, take a few blades to a local garden center or nursery and ask an expert for assistance. Those experts should be able to give you personalized recommendations.
Calibrating Your Lawn Spreader Settings
Whether you have an older model or a newer model, you can calibrate the settings of your drop spreader yourself. That way, you can be entirely sure that you're applying the proper amount of fertilizer to your lawn. Start by laying out a 10 by 10-foot tarp. Fill your spreader's hopper halfway, setting it to the recommended settings. Walk behind and push the spreader across the tarp, allowing the fertilizer to spread as if you were fertilizing your lawn, covering the whole thing. You have now fertilized 100 square feet.
Once you have finished this test run, fold the tarp so that you can collect the fertilizer. Then, weigh it and multiply the weight by 10. That tells you how much fertilizer you would have used to cover 1,000 square feet. You can compare that number to the fertilizer manufacturer's specifications on the packaging and calibrate your drop spreader accordingly.
To learn the square footage of your yard, refer to the documents given at your home's closing. Most will state the total size of your property, and you can subtract the footprint of your home from that number of square feet.