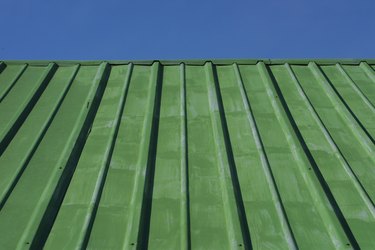 A variety of materials are used to make your roof long-lasting and durable. Plastic roofing cement is a material that is applied to add waterproofing to your roof and aids in the application of roofing materials over an existing surface such as shingles. It can be used with a variety of other materials and may also be used with concrete and masonry surfaces.
Description
Plastic roofing cement, also called mastic, asphalt plastic or flashing cement, typically contains asphalt and various solvents and fillers. It is applied to your roof along with your primary roofing material to provide a solid barrier against moisture and to prevent cracking and leaks. It is manufactured to have a spreadable consistency for ease of application and typically requires no heating or thinning.
Application
Before applying plastic roofing cement, the surface must be clean and dry. Old patches of roof cement should be removed and rust should be cleaned from metal surfaces. Concrete, masonry and other absorbent surfaces may need a coat of primer before application. This surface preparation ensures that the cement has the ideal surface to bond to.
Plastic roofing cement is purchased in a can or bucket-like container and is spread onto the roof using a trowel. It may also be applied using a caulking gun when sealing tears or when sealing hard-to-reach areas. When applied this way, the cement is then smoothed using a putty knife to provide optimal leak protection and a cleaner finish.
Uses
Holes, cracks and tears on composition, styrene butadiene styrene modified, asphalt and metal roofs can be repaired and sealed with plastic roof cement. It is also used to seal gaps around flashing, vents, skylights, chimneys and the joints along metal edgings and gutters. Plastic roofing cement may be used as an adhesive as well for bituminous base flashings and to seal cracks in below-grade exterior walls and foundations.
Durability
Because your roof must endure extreme weather conditions, coatings applied to it will wear over time. Plastic roofing cement is designed to avoid cracking in cold weather and to resist melting in high temperatures, but like most roofing materials, it can deteriorate and its waterproofing ability weakens over time. For this reason, you should inspect roof joints and seals periodically and reapply cement in areas that show cracking or wear to prevent leaks.