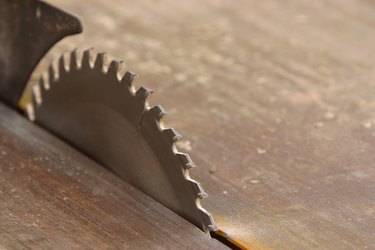 Vinyl lattice is used for a number of things from arbors, fence accents, and deck or porch skirts. It comes in a variety of designs, but a diagonal weave is among the more traditional choices. Made from the same PVC or polyvinyl chloride as plumbing pipe, it is molded to look like woven wood lattice. It has the benefit of being ultra-durable and won't ever rot, but there are a few specific installation challenges.
PVC Lattice
You can cut PVC lattice. Overall, it is not especially difficult to install, but cutting it is a little different than cutting wood lattice and perhaps more difficult. Unlike materials such as plywood and wooden lattice, PVC lattice isn't very rigid, making sheets of it unweildy. PVC is denser than wood. It can be cut with a saw blade, but it can leave a ragged edge and a portion of the edge can melt.
Saws
PVC lattice can be cut with a hand saw, circular saw, table saw -- or just about any saw that cuts wood. If you have a helper, a table saw is ideal. Remove the t-square guide and the rip-fence. Have your helper assist you in guiding the lattice sheet so it doesn't bow severely. Circular saws work very well but, like table saws, they are dangerous. Special care has to be taken when you use a circular saw on an unusual material. Remember your safety comes first. While a hand saw may be more difficult, it will do the job and it's a safer option for less-than-experienced power saw users.
Blades
Blades are very important when cutting PVC lattice. Any wood-cutting blade with lots of fine teeth will probably double as a good vinyl lattice cutting blade. These blades may be plywood cutting blades or crosscut blades. Poor choices of blades are those intended for ripping. They have fewer teeth with a more aggressive hook. If the teeth are too aggressive, they can easily break or chip the fairly brittle PVC.
Eye Protection
You should always use eye protection, but it's even more important when cutting PVC with a power saw. Where saw dust may be formed in a fine, lightweight powder, cutting PVC produces a courser spray. The shavings are sharper, heavier and much more dangerous. Not wearing safety glasses is a bad idea, but even a worse idea with PVC. Cutting PVC can easily cause eye damage, especially if the PVC breaks. With proper eye protection, you can eliminate this danger.