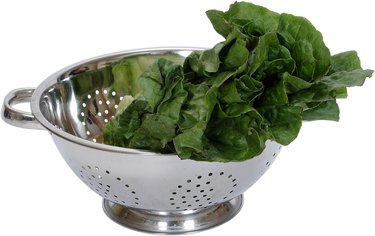 It turns out that Popeye was right about spinach. The leafy greens are among the healthiest of vegetables, providing the body with necessary nutrients including beta-carotene, lutein, vitamin C and zeaxanthin. The four varieties of spinach are divided into two natural seed types based on the seed's texture: prickly or smooth. Spinach initially developed in southeast Asia and was introduced to Europe by the eighth century.
Seeds
Spinacia oleracea is the botanical name for these leafy green plants; the former references the spine and the prickly seed, while the latter Latin term indicates the plant is edible. Prickly seed spinach was once common, but in the early 20th century, hybrid breeding replaced it with smoother, round seeds that were disease-resistant and slower to go to seed in the field. Seed texture and shape do not influence the plant's texture -- many crinkled spinach leaf varieties grow from smooth seeds. Seeds can be sown year-round, weather permitting, in soils near 70 degrees Fahrenheit. Germination takes between seven and 14 days.
Varieties
Savoy spinach, also known as curly spinach, is distinguished by its dark green, crinkly leaves. In the United States, savoy spinach is grown in Arizona, Colorado, Texas, Georgia, Virginia, New Jersey, Illinois and Maryland, with commercial packaging identifying where it was grown. Flatleaf or smooth-leaf spinach has spade-shaped leaves that lie flat, making it easy to clean. Flatleaf spinach is used primarily in canned, frozen and processed meals. Spinach leaves of the baby variety measure about 3 inches and are smooth and flat. Semi-savoy is a hybrid of flatleaf and savoy plants, and because it grows straighter than other varieties, it is popular in home gardens.
Growth
Spinach is further classified by its seasonal sowing times. Winter spinach is robust with strong, coarse leaves; fall spinach is tougher than summer spinach, and spring plants tend to bolt too early. Home gardens should be planted up to eight weeks before the last anticipated frost of winter when the soil is dry and easy to turn. As temperatures rise above 80 degrees Fahrenheit, plants enter a reproduction stage. As spinach "bolts," energy is transferred from producing edible leaves to sprouting flowering seed stalks. Leaves produced in bolting are edible but are too small to harvest. While home gardeners have more leeway than commercial farmers, planting based on location ensures adequate yield.
Reaping
Follow the instructions for planting seeds, making sure the plants receive enough sunlight. In the United States, spinach is planted as a spring and fall crop. The disease-resistant "Melody Hybrid," which matures in 42 days, and the heat-resistant "New Zealand," which takes 70 days, both require full sunlight. "Bloomsdale" spinach was developed in the 19th century; in 1925 "Long Standing Bloomsdale" was bred, and it matures at 45 days. The "Kan Aji Hybrid" is a savoy-like, slow-growing plant producing long dark green leaves; the "Space Hybrid" matures in 40 days; the sweet "Renegade Hybrid Organic" and the "Renegade Hybrid" mature in 30 days.