Things You'll Need
Vacuum

Caulk backer rod foam

Utility knife

Metal spatula

Caulk

Caulking gun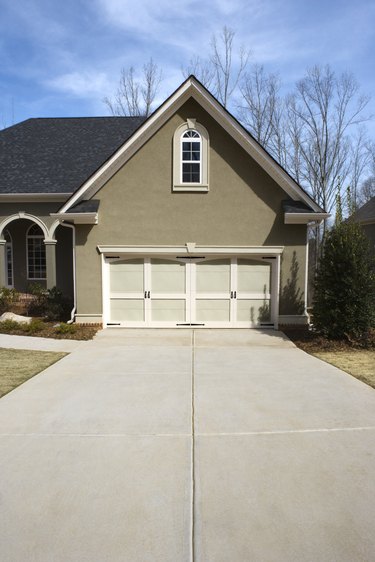 Homes with a concrete driveway that runs from the house foundation can have water issues. If the driveway was built with an improper slope, the water will run towards the foundation. Over time, the driveway will crack where it meets the foundation and the water will run into the foundation. Failure to stop the water from entering the foundation can lead to serious foundation damage, costing thousands of dollars to fix. Fortunately, it is a simple fix to seal the gap between the driveway and foundation in no time, saving you from a more costly fix in the future.
Step 1
Vacuum the crack between the driveway and the foundation that you want to seal.
Step 2
Cut the caulk backer rod foam to size with the utility knife so it fits into the crack. Push in the backer rod with the metal spatula, so its about 1/8 of an inch from the surface.
Step 3
Load the caulking tube into the caulking gun. Cut the tip of the caulking tube at a 45 degree angle with the utility knife. Use an exterior grade caulking to ensure it does not crack.
Step 4
Spread a layer of caulking over the crack on the driveway. Smooth the caulking over by passing your fingers over the caulking. Let the caulking dry for at least 24 hours before exposing it to water.