Things You'll Need
Rags

Mineral spirits

Lint-free towel

Ultra-fine sandpaper

Tack cloth

Paintbrush

Solid, dark stain

Lint-free cotton rags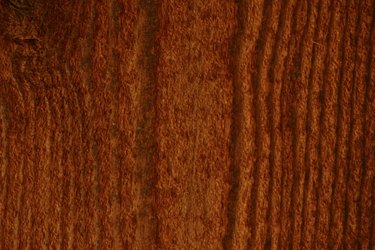 Many times, the goal of staining a wood project is only to accentuate the wood's natural color and rustic look. However, in some cases the grain is so large that it will interrupt your décor and design ideas to allow it to show through. Using a solid, dark-colored stain will allow you to cover up the wood grain of any project, and can also cover small imperfections such as little scratches or flecks in the wood's surface.
Step 1
Wipe down the wood with a rag dampened in mineral spirits to remove surface contaminants such as dirt, dust, grease or oil. Rinse the surface with a rag dampened in clean water and dry with a clean, lint-free towel.
Step 2
Lightly sand the wood surface with ultra-fine grit sandpaper, moving in the direction of the grain. This will open the grain so that the stain can penetrate and cover more easily.
Step 3
Wipe down the surface with a tack cloth to remove sanding dust. Any dust left on the surface will show through the stain.
Step 4
Spread a liberal layer of solid or opaque, dark-colored stain over the prepared wood with a paintbrush. Paint in the direction of the grain, forcing the paint into the open pores of the wood.
Step 5
Wipe off excess stain from the surface with a clean, lint-free cotton cloth. Make sure you wipe with a clean surface of the cloth with each pass, and switch cloths as necessary. This will force the stain deep into the wood. Allow the initial coat of stain to dry overnight before continuing.
Step 6
Repeat application of stain, including painting and wiping away excess, the next day. This second coat will ensure that none of the grain shows through. Allow this coat to dry overnight and inspect in the morning; if necessary, apply a third coat.
Tip
Some staining products include a sealer, while others will require you to seal the wood afterwards to prevent fading and staining. Consult your manufacturer's instructions for details.
Warning
The fumes and odors of staining products can irritate the throat, lungs and eyes. Ventilate your work area with open windows and exhaust fans.