Things You'll Need
Broom

Neutral soap

Bucket

Water

Cleaning mop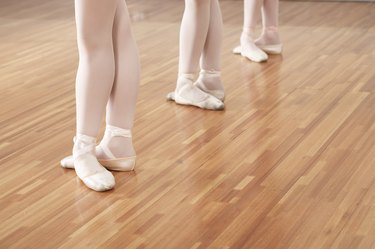 Marley flooring is a vinyl or linoleum floor surface typically designed for use on gym and dance floors. The Marley company stopped making these floors in the late 1970s, but floors of the type are still commonly called Marley floors. When Marley flooring becomes dirty it needs to be cleaned with a routine that leaves behind no residue that could lead to a slip or fall.
Step 1
Sweep the Marley flooring daily or as often as possible with a soft broom. A large push broom works best when you have a large space to clean.
Step 2
Mix 1 gallon of water with 2 tbsp. of neutral cleaner such as dish soap. There are some commercial neutral soaps on the market designed for use on flooring.
Step 3
Dip your mop into the cleaner and wring it out well.
Step 4
Wipe the mop across the Marley flooring, working from one end of the room to the other. Do not track back across the floor after cleaning, as you will leave footprints.