Things You'll Need
Lunch bag with heated packs

Foil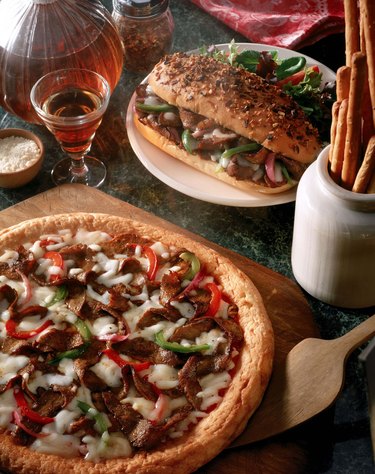 When packing a lunch, you are usually relegated to foods that you can keep cold unless you have the access to heat up your food on a stove or in a microwave. However, the advent of heat packs have broadened the possibilities of food that you can pack in a traditional lunch box. Now, you can make heated sandwiches such as cheesesteaks, grilled cheeses and paninis and pack them in a lunch bag for yourself or your children.
Step 1
Make your hot sandwich of choice. Whether you are making a chicken and pesto panini or grilled prosciutto and Parmesan, make the sandwich as you normally would.
Step 2
Place the hot pack in the microwave while the sandwich is heating. The hot pack slides into a thermal sleeve. Remove the hot pack and place it in the microwave. Heat as per the instructions. For example, you may be directed to heat the hot pack for two minutes.
Step 3
Remove the hot pack from the microwave and slide into the thermal sleeve. Use a dish towel or pot holder to place the hot pack in the thermal sleeve.
Step 4
Wrap the sandwich in foil. Wrapping the sandwich in plastic may cause steam inside the plastic or cause the plastic to slightly melt. Therefore, avoid plastic and opt for foil.
Step 5
Place the hot pack inside the lunch bag. Next, place the sandwich directly on top of the hot pack and seal the bag. The sandwich will remain warm for several hours.
Tip
Use the lunch bags that are sold along with the heated pack system. Unlike traditional lunch boxes, they are made to withstand the heat.