Things You'll Need
Dish soap

Washcloth

Shaving cream

Baby wipes

Rubber and art gum erasers

Paintbrush

Disposable cleaning "erasers"

Blow dryer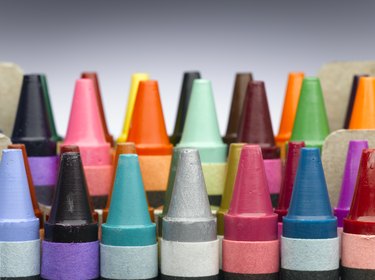 Erasing pencil and crayon marks from surfaces such as paper, wood or painted walls can be done with the right tools. Erasing pencil marks takes different tools than erasing waxy crayon on some surfaces.
Erase Crayon Marks from Walls
Step 1
Heat the crayon mark with a blow dryer to melt the wax.
Step 2
Dip a cloth in dishwashing liquid and rub the area using circular motion.
Step 3
Remove excess soap from the wall with a damp washcloth. Pat dry.
Erase Crayon Marks from Wood and Wood Furniture
Step 1
Place a generous portion of shaving cream over the crayon markings. Let sit for five minutes.
Step 2
Wipe the area with baby wipe in a circular motion until the marks are removed.
Step 3
Wash off any excess shaving cream with a damp washcloth. Pat dry.
Erase Crayon or Pencil from Paper
Step 1
Use an art gum eraser on crayon marks, working in slow circular motions.
Step 2
Use a rubber eraser in a circular motion over pencil marks.
Step 3
Use a clean paintbrush to brush away any excess shavings on paper.
Tip
Involve children in chores such as erasing pencil and crayon marks to help them understand the importance of not marking on walls or furniture.
There are commercially available cleaning "eraser" products that will remove pencil or crayon from many surfaces.
Warning
Test a small area of the wall or furniture with cleansers before applying to the affected area.