Things You'll Need
Screwdriver

Painter's tape

Drop cloth

Safety glasses

Paint scraper and blades

Putty knife

Wood putty

Exterior caulk

Caulking gun

Orbital or rotary sander

60-grit sandpaper

Rags

Exterior paint primer

Latex exterior paint

Paintbrush

Paint roller

Tray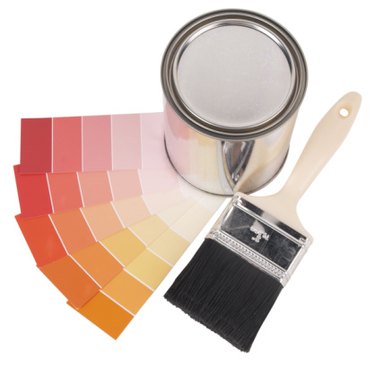 Beach huts, whether small cottages, enclosures for changing clothes or vendor locations on the beach, are typically made from wood and are constructed simply. Painting beach huts is approached the same way as any other exterior painting job. Preparation is nine-tenths of the work. A good paint job and use of high-quality products provides protection from the elements and extends the number of years between paint jobs on your beach hut.
Step 1
Remove the exterior hut hardware, such as handles and light fixtures, or cover the edges of all hardware using painter's tape to protect them. Remove screens.
Step 2
Cover the area around the beach hut with a drop cloth.
Step 3
Put on safety glasses. Scrape loose, dried or flaking old paint from the wood surface using a paint scraper or putty knife.
Step 4
Fill in any dents or holes with wood filler. Caulk any cracks, following the manufacturer's directions, especially where two joints come together to keep moisture outside the hut. Allow the caulk to completely dry.
Step 5
Sand the wood surface using a small rotary or orbital sander and 60-grit sandpaper. Wipe off residual dust left from sanding using all-cotton lint-free rags, such as those made from old T-shirts.
Step 6
Brush on a water sealer/preservative to the wood surface for added protection because of the humid beach conditions. Follow the manufacturer's directions carefully.
Step 7
Apply one coat of latex primer. Tint the primer at the paint store to the same color as the topcoat. Allow the primer to dry.
Step 8
Paint two coats of exterior satin finish latex paint; allow the paint to dry thoroughly between coats. Starting at the top-left corner of the exterior wall, working in 4-by-4-foot sections, use downward, vertical brush stokes to cover the section, then go over the wet section again, using horizontal strokes to smooth out the paint. Repeat this process until the entire wall is covered.
Step 9
Paint all trim work, using satin finish latex paint. Let it dry before putting screens and hardware back in place.
Tip
All items needed for this project are available at home-improvement centers.
Several types of caulking and sealants are available. Ask the staff at the home-improvement center what is the best choice for your specific project.
Latex paint can be applied over oil-based paints unless there are three or more coats of oil-based paint on the surface. However, oil-based paints cannot be applied over latex paints. Ask the staff at the paint-supply store if you have any questions regarding the use of latex and oil paints.
Paint your beach hut on an overcast day, if possible. Direct heat from the sun causes latex paint to dry quickly.
Warning
Painting over caulk that is not completely dry will result in cracking and peeling.