Things You'll Need
Measuring tape

Graph paper

Carpenter's pencil

Safety glasses

Circular saw

Flat-head screwdriver

Clear acrylic wood sealer

Paint stick

Paint brush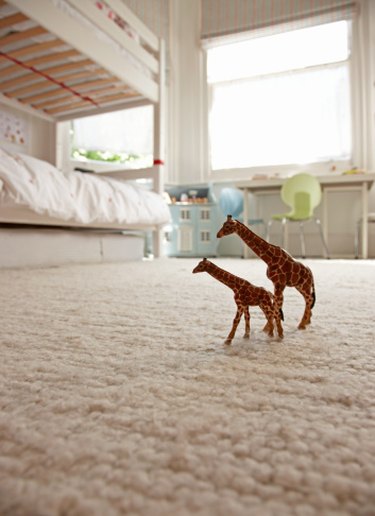 Particle board is a wooden product made from wood chips, dust, flakes and resin. The materials are combined, heated and pressed together to form sheets. This type of subflooring needs to be stored in a dry environment and sealed before installation to maintain its integrity. A small amount of moisture can seep in between the fibers and rot particle board quickly.
Step 1
Measure the room for the particle board subfloor. Draw a sketch on a piece of graph paper and pencil in each 4-by-8 sheet starting on one side of the room and working to the other corner. Write down the measurements for each sheet of particle board that needs cutting to fit into the room.
Step 2
Measure each piece of wood for your subfloor that needs cutting and mark it with a carpenter's pencil on the lines to be cut.
Step 3
Put on safety glasses and cut each piece of particle board with a circular saw.
Step 4
Stack the particle board with the full sheets on the bottom and smaller cut pieces on top.
Step 5
Pry the lid off a can of clear acrylic wood sealer with a screwdriver. Stir the contents thoroughly with a paint stick to achieve an even thickness.
Step 6
Dip a paintbrush into the can of sealer and apply the sealer to all four sides of each piece of particle board. Let the sealer dry according to the manufacturer's directions.
Step 7
Lay the pieces in the room according to your sketch on graph paper. Apply sealant with a paint brush to all sheets of the particle board on the floor, making sure to have even coverage of the face on each sheet. Work from one end of the room to the other moving backward as you apply sealant. Let the sealer dry thoroughly.
Tip
Store particle board inside before installation. Or you may store it outdoors under a tarp with blocks underneath the bottom sheet to keep it from touching the ground. Apply wood sealants in a well-ventilated area with doors and windows open. Seal the subfloor before adding your carpet or vinyl flooring to protect it from spills that seep through the carpet.
Warning
Do not shake the can of sealant to mix it. This action causes bubbles in the sealant and will transfer air bubbles onto the subfloor.