Things You'll Need
Wood or foam board

Newspaper

Masking tape

Plaster cloth

Water

Acrylic paints

Brushes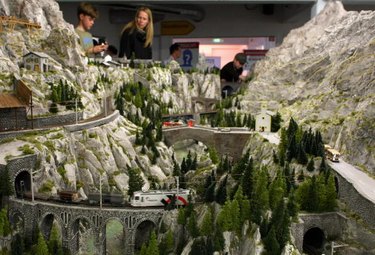 Whether you are building a model of a mountain for a school project or a hobby project like a model train layout, it can be done relatively easily and with little expense or prior experience. There are many ways you might accomplish this, of course, and the method described here can be modified based on what you have available to you. These instructions will produce a light weight mountain that you can construct with household items and a few supplies from a craft store.
Step 1
Select a piece of foam, wood or similar sturdy material for the base of the model.
Step 2
Prepare several balls and irregularly shaped wads of newspaper which will be used to form the body of the mountain.
Step 3
Pile the wads of newspaper up to form the body of the mountain layer by layer using masking tape to hold them in place.
Step 4
Dip strips of plaster cloth in water just enough to wet them and lay them over the newspaper structure and allow to dry.
Step 5
Paint the plaster cloth when it is dry with acrylic paints in earth tones to complete the mountain.
Tip
If you are building a large mountain, you may want to reinforce the structure by taping strips of stiff cardboard or applying a layer of chicken wire over the mountain before applying the plaster cloth.
You can add texture to the mountain side with rolled and crinkled tape or newspaper.
You can use hobby products like ground foam, landscaping materials or model trees to complete your scene. These can typically be found in hobby stores or online.