Things You'll Need
Chandelier

Table

Chairs

Tile

Fabric

Photographs

Plaque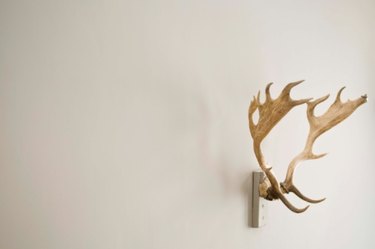 Antler furniture became popular in Europe during the Victorian period, but soon came to America. Antler furniture blended well with the mid-west cowboy themes that emerged at that same time period. Today, interior decorators can find almost anything with an antler theme. from furniture to table settings. While you could flood your home with antler themed pieces, you will find the decor to be more pleasing if you have a select few items that highlight the beauty of antlers.
Step 1
Select the primary antler piece. Pick a large piece as this will be the centerpiece of your decor. Select a chandelier made of deer antlers if you have a high ceiling. Use a dining room table and chairs made of antlers if you have a large space to fill.
Step 2
Pick fabric, wood and tile colors to match the colors in the primary piece. Antler colors can range from light tan to dark brown. Using complementary colors in the fabric, wood and tile will draw more attention to the primary piece without adding distraction.
Step 3
Hang photographs of deer or elk with antlers to highlight the natural beauty of your decor. These photos will function as an homage to the animals that helped create your design.
Step 4
Select a few places to reinforce the antler theme. Pick a fabric with antlers in the design for one chair, or add a few accent tiles with antler images for the kitchen. Do not add too many antler-themed accessories as it could become gauche.
Step 5
Hang a small plaque that describes where you purchased the primary antler piece and what kind of deer or elk made the antlers. This will serve as a conversation starter about the piece and the animal that produced the antlers.