Things You'll Need
Butcher's twine

Knife or scissors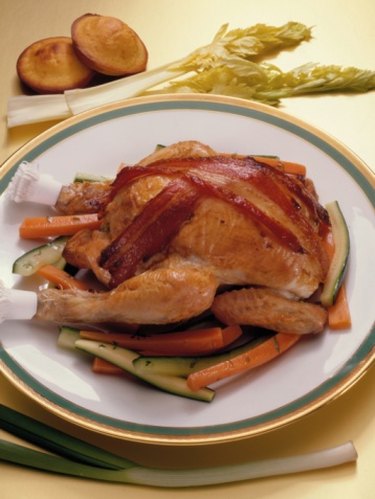 Cornish game hens are an inexpensive way to eat well. Simple to cook, the Cornish hen is compatible with a variety of side dishes. Roasting a Cornish hen is the standard way to cook it. If you want the hen to keep its shape and stay juicy throughout, then trussing is a must.
Step 1
Place the Cornish hen on a cutting board with the breast up and the tail pointing toward you.
Step 2
Take a piece of butcher's string about 2 feet in length and hold the middle section of the string under the ends of the legs where the bone is showing. You will have a very long tail of string on both ends.
Step 3
Wrap the string up and around the two chicken legs at the notch between the end of the bone and where the meatier portion begins.
Step 4
Cross the strings, as if tying a shoe and pull tightly.
Step 5
Bring the ends of the strings back across the hen, so that they cross just below the breast and wrap the string around the base of the wings.
Step 6
Pull the string up tightly under both wings and tie the string over the breast of the hen. A knot or a bow works well.