Things You'll Need
Paint scraper

Screwdriver

Hammer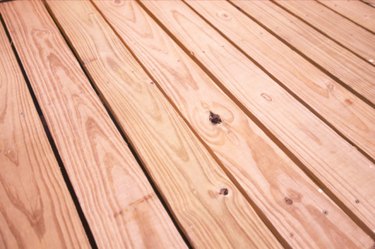 There are many different types of wood that can be used to construct a deck. If a piece of wood rots or breaks, you want to replace it with the same type. Determining the type of wood used in your deck will help you when you need to do a repair.
Step 1
Complete a visual inspection of the wood to determine coloration and grain patterns. The most common wood used on decks is pressure treated Southern yellow pine. In most cases, pressured treated pine does will not be painted. When first installed, it has a greenish color but then dries to a dull grey. The grain is wide, dark and prominent. Western red cedar has a pink hue when fresh but dries to a dark brown over time. Its grain pattern is subdued compared to yellow pine. Redwood has almost no discernible grain pattern and dries to brown with red hue. Mahogany is used infrequently in deck construction, and tends to dry with a medium red to a dark brown hue.
Step 2
Chip away a portion of the paint with a paint scraper in an inconspicuous area of the deck. This will expose the wood under the paint. Painted wood tends to retain the color it had when freshly cut since the surface of the wood remains protected from the elements. Use the comparison in Step 1 to help you identify the wood type.
Step 3
Remove the screws or nails that hold down a short board on the deck. Use a screwdriver to remove screws and a claw hammer to remove nails. Take the board to a lumber yard and compare the wood grain patterns with the wood at the lumber yard. Do not rely on coloration, especially if the deck has wood stain on it. If you cannot determine the species at the lumber yard, ask a sales representative to help you.