Things You'll Need
240-grit sandpaper

Degreasing agent

Rag

Epoxy-based adhesive

Paintbrush

Rubber squeegee

Sponge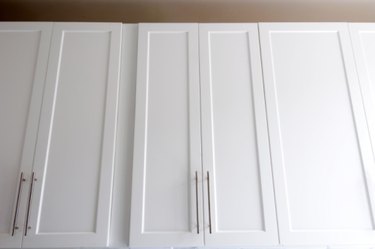 Manufacturers apply a thin vinyl sheet coating over particleboard or medium density fiberboard to create low-maintenance cabinetry. Over time, excess exposure to water or steam can cause the vinyl coating to bubble and lift. Wear around the edges of cabinet doors and frame causes the covering to peel. Impact or scraping damage is another source of lifting and peeling. Reattaching the vinyl surface is possible if the coating remains intact without missing pieces. Making repairs immediately to prevent water or moisture damage to the substrate is necessary.
Step 1
Lift the peeling vinyl coating gently and carefully by hand. Fold the peeling section over to gain access to the substrate. If the section is detached, lay it flat on a clean, dry surface.
Step 2
Sand the substrate with 240-grit sandpaper strip off the old adhesive and leave a slightly rough finish on the substrate.
Step 3
Spray a degreasing agent onto a rag and wipe the substrate to remove old adhesive, bits of sanding dust and oils.
Step 4
Paint a paper-thin layer of an epoxy-based adhesive over the substrate under the peeling vinyl with a small paintbrush.
Step 5
Pull the vinyl coating over the adhesive using very little force or pressure. Using too much force can tear the vinyl coating making repairs impossible.
Step 6
Place the edge of a rubber squeegee onto the undamaged section, 1 to 2 inches from the damage. Pull the squeegee across the vinyl working toward the edge of the cabinet to ensure firm adhesion and to remove air bubbles.
Step 7
Wipe away seeping adhesive with a barely damp sponge. Allow the adhesive to dry for one to two hours before touching the cabinet.
Tip
Make repairs as soon as damage occurs to protect the substrate. Wear eye protection and gloves when working with epoxy-based adhesives.
Warning
Keep water and moisture away from damaged areas. If water enters the through the coating, it will cause the substrate to swell and may ruin the cabinet.