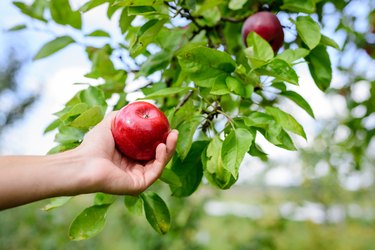 When you see brown spots or black marks on apple tree leaves, it could be symptomatic of a fungal disease. If caught soon enough and treated appropriately, the tree can recover and start to thrive once again. Are there any other symptoms, and what is the disease actually called?
Brown Spots on Apple Tree Leaves
One of the more common diseases is apple scab. This disease presents with olive green to brown spots that eventually become yellow, and the leaves fall off their branches early. The infected apples develop unsightly scabs that appear olive green and then turn brown with a corky texture. They look cracked and deformed, and you should not eat them.
If a tree is already infected with this disease, you should not apply a fungicide during the current season. Instead, you will want to remove the fallen leaves and deformed fruit and then you should prune it back in the winter. You can apply an apple tree fungicide early in the following spring. You can use neem oil, sulfur/lime sulfur, copper, Captan, tebuconazole or myclobutanil for ornamental crabapple trees. For trees with edible apples, only use powdered or wettable sulfur, Captan or lime-sulfur.
How to Treat Black Spots on Apples
If the spots look more like black spots or blotches, this could be flyspeck or sooty splotch on apples. Both are also fungal diseases. Sooty splotch can also be brown, but the color will be darker, and it can also be black. The smudges are generally half an inch or larger and appear on the fruit. If you see tiny, shiny, individual black dots, this is more likely to be flyspeck. Both can appear when there's been a lot of rain and consistently moderate temperatures.
But even though these affected apples can look kind of nasty, the damage is mostly cosmetic. The fruit is still edible even if it doesn't look all that appealing. You may be able to rub off some of the spots, but once they're on the apples, they're not going anywhere. The best way to treat brown or black spots on apple leaves and fruit is to employ preventative measures ahead of time.
Preventing Apple Tree Fungal Diseases
The first step toward preventing these two diseases is to practice good tree hygiene, starting in the fall. You will want to remove and dispose of any leaves or fruit that have fallen onto the ground, as these are a breeding ground for fungi. These should not go in compost piles. To prevent the diseases from spreading, always sterilize pruning shears with isopropyl alcohol and bleach before using them and in between cuts.
Apple trees need well-draining soil to thrive, so don't plant them in heavy soil or low areas prone to flooding. You need to water young apple trees deeply and often, up to three times a week. After they're around three or four months old, drop down to once a week. Older trees only need a drink when it's very hot and dry outside. You can spray one of the fungicides in the early spring but also remember to do the cleanup and water according to schedule as additional preventative measures. If the apples are edible, check carefully to ensure that the fungicide is safe.