Things You'll Need
Mild detergent

Sponge

Paper towels

Ammonia-based cleanser (not window cleaner)

Micro-abrasive cleanser

Scouring sponge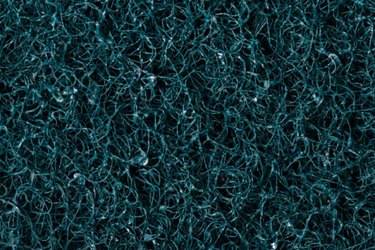 Corian is a line of solid-surface sinks and countertops manufactured by DuPont. The company offers small and large kitchen sinks with a single or double basin, as well as a line of bathroom sinks. Kitchen options include apron-front sinks and countertops with integrated sinks. The Corian line is stain-resistant and durable, making them an attractive choice for a kitchen or bathroom remodel. Cleaning a Corian sink is not difficult, but DuPont has some suggestions to help maintain the appearance of the sink over years of use.
Step 1
Scrub small stains and residue away with soapy water and a cleaning sponge. A mild dish detergent should remove most dirt and residue on a Corian sink.
Step 2
Wipe the sink dry with paper towels to prevent watermarks and reduce film in the sink.
Step 3
Spray an ammonia-based cleaner onto the sink and wipe clean with a sponge. Letting the cleaner sit for a minute or two can help break up stains that don't remove easily with soap and water alone.
Step 4
Squirt into the sink a generous amount of a micro-abrasive cleanser – about 1 to 2 tbsps. DuPont specifically recommends Soft Scrub if soapy water and ammonia-based cleaners aren't tough enough to clean the sink.
Step 5
Rub the cleanser over the entire sink with a scouring pad. DuPont endorses Scotch-Brite's green pads for use on Corian. The micro-abrasives in the cleanser coupled with the abrasiveness of the scouring pad should remove any stubborn messes.
Step 6
Rinse and wipe clean with a regular household sponge while the water is running.
Step 7
Wipe the sink dry with paper towels when the sink is sufficiently clean.
Tip
Cleansers other than ammonia-based products may work well to clean the sink, but DuPont recommends ammonia-based cleaners for Corian sinks. Disinfect your Corian sink by filling it 1/4 full with 1 part water and 1 part bleach, DuPont suggests on its website. Leave the solution in the sink for 15 minutes and wipe the sides and bottom of the sink as the bleach solution drains.
Warning
Do not use a micro-abrasive cleaner and scouring pad to clean Corian countertops. For difficult stains and residue, DuPont recommends Deep Cleaner for DuPont Corian, a cleanser made by Stone Care International and available at some home-improvement stores.