Things You'll Need
Lacquer thinner

Cloth

100-grit sandpaper

Hand block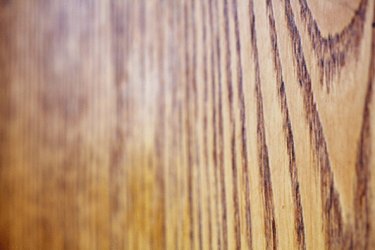 Boiled linseed oil is a penetrating oil that is used to preserve wood. It works by sinking into the pores of the wood where it hardens. It can then be polished or waxed to give the wood luster. To refinish wood that has been treated with boiled linseed oil, the old linseed oil finish must first be removed. Linseed oil breaks down easily with lacquer thinner. The remaining oil in the pores can then be sanded off by hand.
Step 1
Pour enough lacquer thinner onto a cloth to saturate it. Wipe the thinner onto the surface of the linseed oil with the cloth until the wood has a wet sheen to it. If the cloth gets dry, add more thinner.
Step 2
Rub hard with the cloth to loosen and break up the linseed oil. You will be able to see a lighter color on the wood when the oil begins to come off. Rub the wood with the cloth until the wood has a consistently lighter color to it. Let the wood dry for one hour.
Step 3
Rub the wood with more thinner if the surface looks blotchy until you can see consistent, bare wood. Let the wood dry for one hour.
Step 4
Sand the wood with 100-grit sandpaper attached to a hand block. Sand in short strokes parallel to the grain. Change the sandpaper every 15 minutes or when it gets a dirty buildup on it.
Step 5
Sand the wood until the sandpaper produces a white powdery sawdust and the wood looks bare and natural.
Warning
Always wear breathing and eye protection when working with wood or finishing products. It is also a good idea to wear rubber gloves when working with thinner.