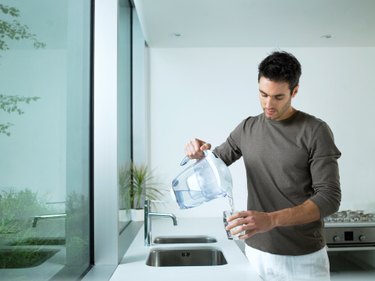 Water filters are great for purifying tap water but they all eventually stop working properly at some point. Whether you have to replace a PUR water filter that quit working or just want to upgrade to a newer model, there are several ways to recycle your old PUR filter, including taking it to a local recycling center or sending the filter to Recycle Water Filters.
Step 1
Remove your PUR water filter from your faucet and remove the filter cartridge inside. Disassemble your water filter and place all of the plastic components (or in most cases the entire filter) into your recycling bin. Bring your empty PUR filter cartridges to any Whole Foods location. Whole Foods accepts used filter cartridges, which are usually made with #5 plastic, and recycles them for you.
Step 2
Visit the website Earth 911, which features a search engine for finding recycling centers and businesses in your area that accept and properly dispose of your PUR water filter and filter cartridges (see the References section). In the search bar, enter "Water filter," as well as your ZIP code or the name of your city, and click "Search." Using the search results, contact the nearest recycling centers to inquire about when they are open and whether they charge anything for recycling filters.
Step 3
Visit the website Recycle Water Filters, which recycle your water filters for you if you send them via postal mail (see References). Recycle Water Filters does charge a fee for accepting and recycling the filter and there are also shipping costs involved in sending the filter. This can be a helpful option for those who do not have a recycling center nearby that accepts water filters.
Step 4
Give your PUR filter, along with any filter cartridges you have left, to a friend or family member who could use it, if the filter is still properly functioning.