Things You'll Need
Measuring tape

Notepad

Hacksaw

1/4-inch wire mesh

Nails

Self-drilling screws

Washers and nuts

Hammer

Drill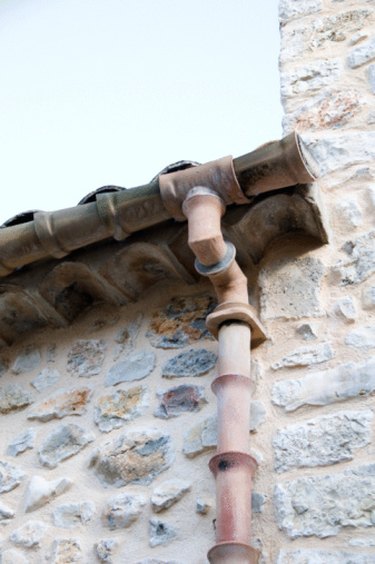 Gutter systems are commonly installed on homes and help keep water from entering the home. Water that comes from the roof is caught in the gutters and channeled away from the home out into the desired area. If a gutter is clogged or filthy, it will not function properly and cause damage to the home. In this case, a gutter guard is installed to prevent clogged gutters. You can make your own gutter guard, which is more cost effective than purchasing one, to protect your gutters from clogging.
Step 1
Measure the length and width of each gutter section with a measuring tape and mark the measurements on a notepad with a pencil. Gutters are generally uniform in width along the entire system.
Step 2
Add 2 inches to the length and width measurements to obtain the final measurement result.
Step 3
Cut wire mesh sections, using a hacksaw, that are between 1 and 2 feet in length and add up to total the measurements above. Cut enough sections to cover the entire length of the gutters. The smaller sections will make attaching the gutter guards easier.
Step 4
Secure one edge of the mesh to the exterior edge of the gutter with self-drilling screws. Place a washer on the screw and insert the screw through the mesh and gutter with a drill. Secure the screw with a nut.
Step 5
Attach the other edge of the wire mesh to the roof with nails and washers. Place a washer on the nail and hammer the nail into the roof of the house to secure the mesh. Overlap the ends of pieces in each mesh section by 1 or 2 inches for extra security.
Tip
Position the ladder close to the sections you are working with to ensure that you are no more than an arm's length away from the gutter.