Things You'll Need
Saucepan

Flour

Cold water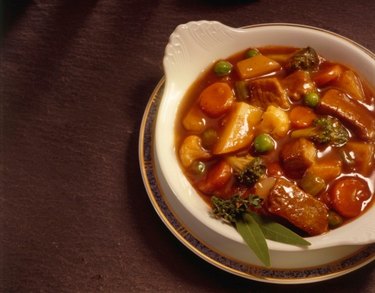 Stew is a warm and hearty meal, typically providing a thick, gravy-like broth with an array of ingredients such as potatoes, onion, carrots and beef. You can use a thickening agent such as flour or pureed vegetables to alter the consistency of a watery broth so that the texture thickens before serving.
Step 1
Drain the broth of the stew to separate it from the other ingredients. Pour the broth into a different saucepan. Turn your stove top burner on high and bring the broth to a boil.
Step 2
Combine 1 tbsp. of flour and 3 tbsp. of cold water in a bowl. Whisk the flour and water until the flour is completely dissolved. Another option is to puree stew ingredients such as potatoes or carrots to use as a thickening agent.
Step 3
Pour 1 tbsp. of the mixture into the boiling broth at a time. Whisk the broth often to avoid clumps from forming. The more flour mix you add to the broth, the thicker it will become.
Step 4
Lower the heat and simmer the broth. Add the stew ingredients back into the broth. Continue stirring your stew to maintain a smooth and thick texture.
Step 5
Remove the stew from the heat and allow it to cool for five minutes, once finished. Cooling your stew allows the broth to thicken more.