Things You'll Need
2 cups of flour (plus a little extra)

1 cup of salt

3/4 cup of lukewarm water

Bowl

Wooden spatula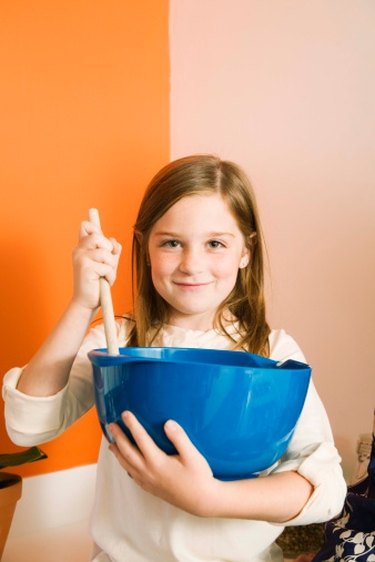 Salt dough is common recipe among educators and parents with small children as the mixture is nontoxic and can be baked, microwaved or allowed to dry in a cool, non-humid area. Use it yourself or get the children involved in holiday or everyday decorating while creating sculptures, tchotchkes and tree ornaments. Mold the dough with your hands or flatten with a rolling pin and use decorative cookie cutters. Decorate with paint, glitter and craft supplies after baking or allowing to dry, or all natural colorings prior to drying.
Step 1
Combine the flour, salt and water in a medium bowl and stir until completely mixed with a wooden spatula. Add proportionate amounts of flour and salt if the mixture is too sticky or add a teaspoon of water at a time if it is too flaky.
Step 2
Mold the dough into a shape of your choice to flatten using a rolling pin and press cookie cutters into the dough. Remove the shapes from the remainder of the dough and allow to dry completely for 1 to 5 days, depending on the thickness of each piece.
Step 3
Paint the dried dough in colors of your choice coinciding with the decoration's nature or leave it for a natural look to the art.
Step 4
Store unused dough in a sealed plastic bag for up to one week. Do not allow the dough to dry out if planning to use it again.
Tip
Small shapes or thin cut-outs can be baked in a 200-degree oven for approximately 2 hours in lieu of drying. Microwaving is an option. Use 50 percent power for 1 to 4 minutes and keep an eye on it to avoid fires.
Warning
The larger or thicker the mold, the more likely it will be to crack while drying.