Things You'll Need
150-grit sandpaper

Tack cloth

Wood fill

Paintbrush

Tinted primer

Paint

Clear coat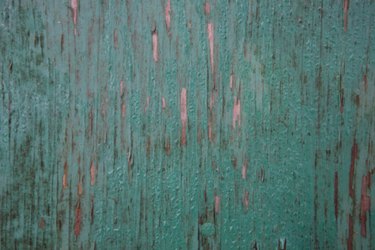 Whether you're just starting out and want to find a way to make old furniture look hip or you just really like the vintage look of shabby chic, distressed furniture is an easy effect to achieve. The best thing about distressed furniture is that you don't have to concern yourself as much with the quality or age of the piece you're working with. After all, the idea behind distressed furniture is to make an item look like it has history.
Step 1
Sand the piece of furniture you're working on to ensure that the primer you apply later adheres properly. Sanding will also remove any buildup or residue that has collected on the wood.
Step 2
Fill nicks or holes in the furniture with wood fill for a smooth surface. Skip this step entirely if you want your piece to look rustic and a little beat up.
Step 3
Wait for the wood fill to dry and resand the area. Use a tack cloth to wipe the entire piece down, being careful to remove all dust and debris from the sanding. The surface should be completely clean before beginning the next step.
Step 4
Apply a coat of tinted primer in any shade you want to "peek through" the finished product. Skip this step if you want to see bare wood in the distressed areas.
Step 5
Apply a coat of paint afer the primer has dried completely. You may need to apply two coats to certain types of porous wood.
Step 6
Begin distressing the wood. Once the paint is dry, you'll begin by lightly sanding the areas that would normally receive the most wear. For instance, if you're working on a chest of drawers, sand the top edges, the front vertical edges and the drawer knobs.
Step 7
Keep the sanding random. Time and wear would not age the paint evenly, so skip around as you sand the piece. Touch it to get an idea of where people would come into contact with it during normal everyday use.
Step 8
"Age" the piece using an icepick. If you really want the piece to look as though it's been sitting in a garage or attic somewhere for decades, create your own simulated "wormholes" by sticking an icepick into the furniture.
Step 9
Dust the piece one final time. Once it's free of all sanding dust, paint the wood with clear coat to seal and protect the distressed finish.