Things You'll Need
Pickling or kosher salt

Molasses or sugar

Water

Large pot

Large plastic covered container

Pork butt roast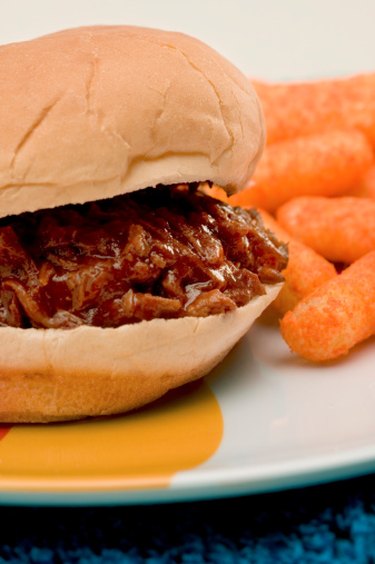 Pork butt roast comes from the upper shoulder of a pig and is a good candidate for smoking because it contains a high level of collagen and marbled fat. Brining helps infuse the pork butt with moisture and flavor. You can use either a hot or cold brine for pork butt. A hot brine uses kosher salt and sugar, which need heat to dissolve in water. A cold brine uses pickling salt and molasses, which can dissolve in cold water. Whichever brine you use, your roast is sure to be more moist and have a better flavor.
Step 1
Make a hot or cold brine solution based on the ingredients available to you. For a cold brine, dissolve 12 oz. pickling salt and 8 oz. molasses in 2 qts. water. For a hot brine, heat 1-1/4 cups kosher salt and 6 tbsp. sugar in 3 qts. water in a large pot. Let a hot brine cool to room temperature before you add the pork.
Step 2
Pour the brine mixture into a large plastic container with a cover -- a small cooler works well -- and submerge the pork butt inside, fat side up. Put a heavy plate on top of the pork if necessary to keep it submerged.
Step 3
Place the brining pork into the refrigerator and allow to soak for at least 8 hours, but no longer than 48 hours. After brining, remove the pork butt and pat dry before seasoning and smoking.
Tip
If you can't fit the brining container in the refrigerator, fill a large plastic bag with ice and set it on top of the submerged pork butt. Replace ice as necessary.