Things You'll Need
Stiff brush

Vacuum cleaner

Vacuum cleaner upholstery attachment

Bowl

Measuring cup

Water

Denatured alcohol

Cloth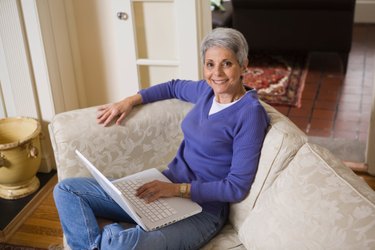 The main cause of a musty smell on your upholstery is the formation of molds and mildew. These substances are more likely to form in dark, damp and poorly ventilated areas where the upholstered furniture might be being stored. If you are getting furniture out of storage or bringing it out of the basement or garage, you might notice a very foul musty smell that you need to remove before you use the furniture.
Step 1
Bring the upholstered furniture outside if at all possible. This will help prevent the spreading of mildew and mold in your home.
Step 2
Use a stiff brush to scrape away any visible mold and mildew from the upholstery.
Step 3
Vacuum the upholstered furniture using the upholstery attachment of your vacuum cleaner. Vacuum all areas, including those without visible mold.
Step 4
Get a bowl and add 1 cup of water and 1 cup of denatured alcohol.
Step 5
Use a large cloth and the solution to wipe down all surfaces of the upholstery. This will eliminate the mold and mildew and get rid of that musty smell.