Things You'll Need
Pork dry rub

Re-sealable plastic bag

Grill

Plate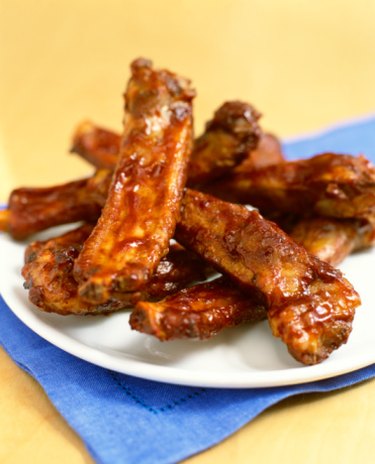 Marinating ribs is an essential step to a delicious barbecued meal. An interesting twist to a traditional rib marinade is using Coca-Cola to tenderize the ribs by breaking down their fibers. The carbonated beverage will provide a sweet flavor, but the meaty flavor will overpower the Coke so it is not too intense. The ribs will taste divine with the smoked barbecue flavor.
Step 1
Season the rack of ribs with 3 tbsp. of your favorite dry pork rub. Place the seasoned ribs in a re-sealable plastic bag.
Step 2
Pour 2 cups of Coca-Cola in the plastic bag with the seasoned ribs. Place the bag in the refrigerator and allow it to marinate overnight, for up to 24 hours.
Step 3
Turn on your grill or smoker and allow it to preheat. Remove the ribs from the refrigerator. Place the ribs on a plate and season with dry pork rub.
Step 4
Place the ribs on the grill or the smoker. Baste the ribs regularly with the remaining Coca-Cola during the cooking process.
Tip
Heat your smoker to 225 degrees, or 200 degrees if the ribs are wrapped in tinfoil, and allow the ribs to cook for 4 hours at this temperature. If you don't have a smoker, you can simply cook the ribs on your barbecue or in the oven on a baking sheet.