Things You'll Need
1/4 cup trisodium phosphate

1 gallon water

Bucket

Sponge

Electric sander

120-grit sandpaper

150-grit sandpaper

220-grit sandpaper

2 cloths

Mineral spirits

Blond gel stain

Clear polyurethane finish

3-inch nylon brush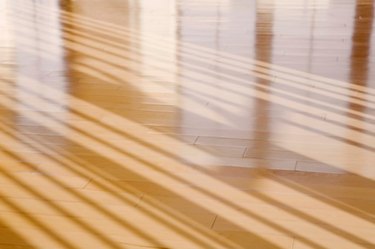 Wood has a natural beauty in the pattern of its grain and its natural color. However, layers of paint, varnish and stain can conceal this natural aesthetic. Restoring wood to its innately fresh and sparkling finish can be a satisfying process. A blonde finish is a wise choice which both warms the wood in a soft tone and highlights the grain pattern. However, if you attempt this process incorrectly you could discolor, scratch, disfigure or warp the wood.
Step 1
Combine 1/4 cup Trisodium phosphate with one gallon of water in a bucket. Dip a sponge in the mixture and wring it out. Wipe down the wood with the sponge. Rinse it off well and allow it to air dry.
Step 2
Apply a piece of 120-grit sandpaper to the bottom of your electric sander. Sand the surface area of the wood thoroughly, following the pattern of the grain. Repeat this process with 150-grit and 220-grit sandpaper.
Step 3
Dampen a soft cloth in mineral spirits and wipe down the wood, removing the dust from sanding. Dab a silver-dollar sized amount of blonde gel stain to your soft cloth and rub it in evenly to the wood. Repeat this process until you cover the entire surface area of the wood. Allow the stain to penetrate into the wood for 10 minutes.
Step 4
Wipe off the excess stain with a clean, lint-free cloth. Allow the stain to fully dry overnight. Apply a single coat of clear polyurethane gloss sealer to the wood with a 3-inch nylon brush. Allow it to dry overnight and apply a second coat.