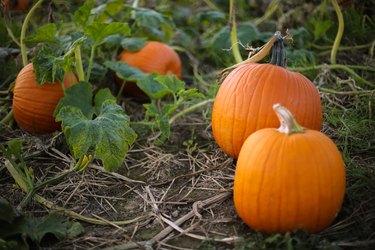 Pumpkins (Cucurbita pepo) and related vegetable plants, such as cucumbers and squash, are all susceptible to a number of soil-borne pathogens that can cause pumpkins on the vine to rot. Pumpkins rotting on a vine may also be the result of environmental conditions or a lack of pollination. There are cultural practices that may help to prevent rot root from destroying your pumpkins, however.
Pumpkins Rotting on a Vine
One possible cause of rotting pumpkins is a serious disease known as Phytophthora blight, which is caused by the pathogen Phytophthora capsici. This disease often manifests as white growth on the side of the fruit touching the ground. Other types of rot that affect pumpkin plants include Fusarium fruit rot, caused by the pathogen Fusarium solani f.sp. cucurbitae, and black rot, caused by a fungus called Didymella bryoniae.
Pumpkins may also develop what is known as blossom end rot, which can be caused either by a lack of calcium in the soil or an inability of the plant to absorb calcium as a result of insufficient moisture. If the pH of the soil is too high or too low – the ideal soil pH for pumpkins and other winter squashes is 6.2 to 6.5 – the plants may also have trouble absorbing calcium from the soil. The lack of calcium causes the side of the fruit opposite the side of the stem to begin to sink in and eventually turn black with mold.
Preventing Rotting Pumpkins
Practicing crop rotation is one way to keep pumpkins on the vine from rotting. The pathogens that cause rot can survive in the soil for several years; therefore, pumpkins and other cucurbits, like cucumbers and melons, should not be grown in the same soil where cucurbits were grown in the last four years. Using black plastic mulch to prevent the soil from touching the fruit can also help; however, the pathogens in the soil may still splash onto the plants during irrigation.
Buying only certified disease-free seeds is also important for preventing pumpkin rot, and using seeds that have been treated with fungicide may also be beneficial. It is also crucial not to overwater pumpkin plants, as the excess moisture encourages the development of diseases, such as Phytophthora blight and others.
To prevent blossom end rot from occurring, it is a good idea to have your soil tested to make sure that it has the appropriate pH and necessary nutrients for growing pumpkins. This allows you to make any necessary soil amendments prior to planting. Maintaining an even amount of moisture at all times and using mulch to conserve soil moisture can also help prevent blossom end rot in pumpkins.
If your pumpkins are undersized and rotting on the vine, this could be a result of poor pollination. In order to produce fruit, female pumpkin flowers must be pollinated by male pumpkin flowers. Honeybees are important pollinators for pumpkins. However, the window for a female pumpkin flower to be pollinated is just one day, and humid weather can interfere with bee activity.
Growing flowering plants as pumpkin companions can attract bees and improve the odds of pollination occurring. It is also important not to spray insecticides between the hours of 9 a.m. and 4 p.m. when bees are most active. This is because insecticides can kill bees, preventing pollination from occurring. To ensure successful pollination, you can opt to hand-pollinate your pumpkin plants.