McCoy cookie jars have been produced by the Roseville, Ohio-based Nelson McCoy Sanitary Stoneware Co. since the 1930s. The company specializes in creating functional and decorative stoneware items, including cookie jars, jugs, pitchers and crocks using clay mined from the land near its factory. The collectible cookie jars come in a variety of shapes, styles and fire-glazed colors. You can learn how to date McCoy cookie jars by assessing a few major characteristics of each piece.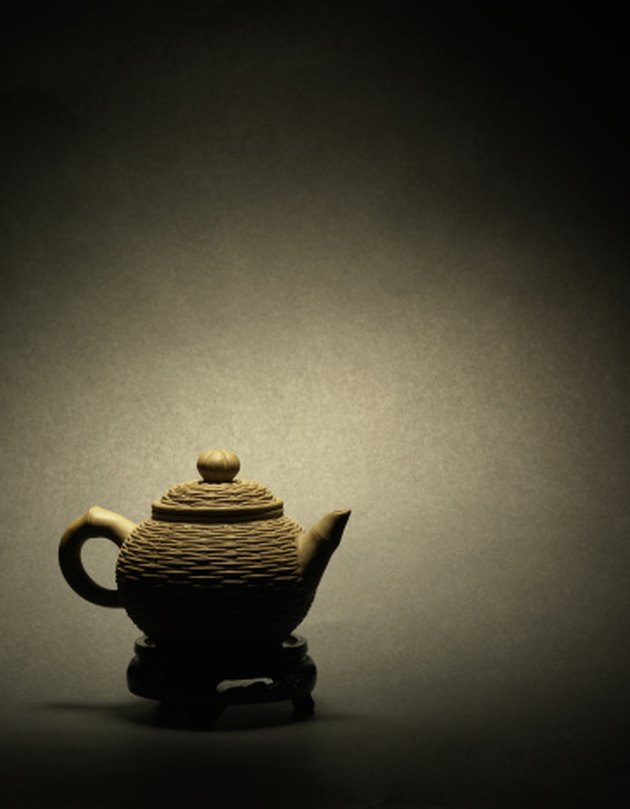 Step 1
Assess the shape of the cookie jar. Concave-shaped jars featuring yellow floral decorations and circular, flat finials were produced in the mid-1930s. Ball-shaped cookie jars with honeycomb patterns in green, maroon and brown were made in the late 1930s. Old milk-can-shaped cookie jars with molded handles in black, blue, ivory, yellow and green were made between 1939 and 1944, as were black and ivory bean-pot-shaped jars with open handles and round ball-shaped jars with slanted or angled finials in shades of blue, green and yellow. Hobnail-patterned jars with molded handles in shades of green, yellow, blue and a rare coral were produced in 1940. Tilt pitcher cookie jars in yellow, black, blue and green were developed in 1939.
Step 2
Assess the maker's mark, or lack thereof, on the bottom of the cookie jar. Jars marked "USA" with an abstract line mountain peak in the background were produced from 1940 to 1943, while those with "USA" and a semicircle moon were made between 1940 and 1942. Jars marked "McCoy Handpainted" were produced in the late 1940s, while jars bearing the mark "McCoy Made in the USA" were made between 1940 and 1950. Other McCoy products were marked "FLORALINE," and these pieces were produced between 1940 and 1945.
Step 3
Assess colors. Most McCoy cookie jars made in the 1930s were earth-toned jars colored with fire-glazed paint. Shades such as ivory, white, black, green, blue and yellow were more prevalent in the 1940s and 1950s.
Tip
If you are unable to accurately date your McCoy cookie jar, a reputable antique appraiser can probably give you more information.
Warning
Some genuine McCoy cookie jars do not have a maker's mark on the bottom.