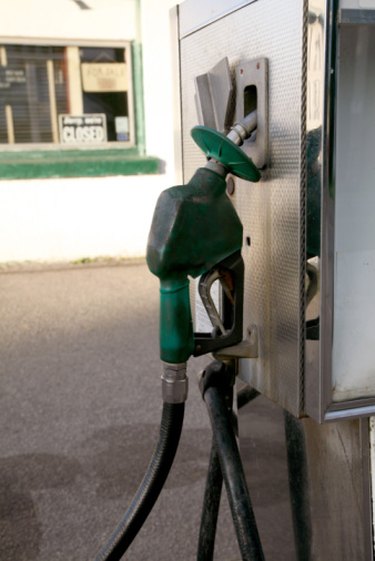 Spillproof gas cans are becoming increasingly popular, as they allow the transport of fuel from the pump to your lawnmower or vehicle without the danger of spilling or leaking gas into the environment. Spillproof gas cans can be turned upside down or left on their side without any gas escaping from the cans. Unlike traditional cans, they are self-venting and self-sealing, with a flow rate of up to 3 gallons per minute. Using a no spill gas can is also easier than the old style of screwtop cans.
Step 1
Unscrew the twist cap over the can. This will remove the entire spout. Fill the no spill can with the desired amount of fuel. Screw the twist cap and spout back onto the can.
Step 2
Set the can next to the vehicle or tank to which you want to add fuel. Remove the dust cover off the spout of the can.
Step 3
Lift and insert the spout of the can into the fuel tank. It should fit into almost any tank.
Step 4
Depress the thumb button control located on the back of the spout. Fuel will commence pouring. Add the desired amount of fuel into the tank.
Step 5
Release the thumb control. The flow should cease. Replace the dust cap.
Step 6
Store the no spill gas can in a safe place until you are ready to use it again.