Things You'll Need
Screwdriver, Phillips or flathead

Socket wrench

Thin-bladed handsaw

Pry bar

Hammer

Electric screw gun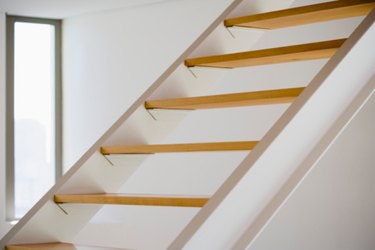 Nails, screws and adhesives are the items that typically hold stair treads to their underlying stair support stringers. Additionally, spindles, wall base trim and newel posts may be positioned above stair treads. These hindrances, while seemingly obstructive, each have a remedy for removal. Once you get rid of the obstacles in the way of removing the tread, it won't take much to remove the tread itself. If you take care to remove damaged, rotten or out-of-date treads without damaging the underlying supports, the installation of new treads won't be a problem.
Step 1
Remove any newel posts that might be set on top of the treads. Locate the anchor screw that holds each newel post in place and remove it with the appropriate tool, such as a screwdriver or socket wrench.
Step 2
Cut the dowel pin at the base of any wooden spindles that may be above the treads. Use a thin-bladed handsaw to cut these dowel pins. Use a screwdriver to remove screws from the base of metal stair spindles.
Step 3
Remove any nails used to hold the stair tread in place. Use a small pry bar and hammer to extract the nails. Angle the claws of the pry bar beneath the nail head, then strike the pry bar with the hammer until the claws go under the nail head. Press down on the handle of the pry bar to lift up the nails. If screws were used to hold the treads down, use an electric screw gun to extract them. If you can't see the nails or screw heads, use a magnet to locate their whereabouts. You'll feel a tug on the magnet when you go over one.
Step 4
Lift up on the lip of the tread to see if it moves after you've removed all of the fasteners and obstacles. If it lifts up easily, remove it from the underlying stringer support. If it doesn't lift up easily, it's probably glued down. Wedge the pry bar between the top of the stair riser and the bottom edge of the stair tread lip. Strike the end of the pry bar with the hammer to drive the pry bar beneath the stair tread. Do this every 3 inches across the length of the tread until it pops free.
Tip
The wooden dowel pins that hold the spindles to the tread are replaceable. Don't worry about cutting them.
Warning
Wear leather work gloves to protect your fingers and hands from wooden splinters.