Things You'll Need
Saw

Wrench

Scales

Calculator

Measuring tape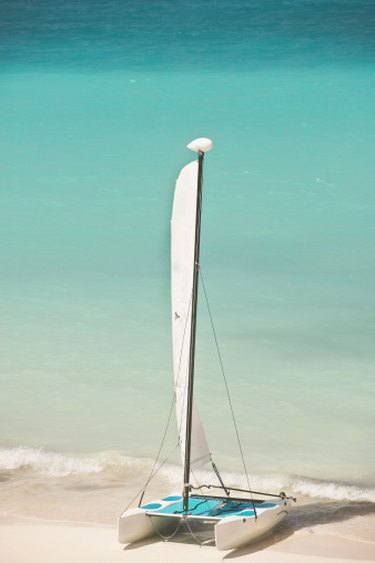 Building a foam pontoon boat can be a challenging but fun activity. Build your own boat to save tons of money compared to a boat purchase. It is also the first step to lots of fun hobbies, such as sailing, sea fishing, diving and snorkeling. Of course, many things have to be taken into consideration when designing your pontoon boat. To make sure your boat meets all appropriate regulations, safety considerations must be planned out early on in the building process. You can build a foam pontoon in your own garage using an everyday toolbox.
Step 1
Choose a design for your pontoon boat. While you may want to base your foam pontoon on an original design, it may be simpler to use a previously designed blueprint. You can find numerous versions of pontoon designs on the Internet.
Step 2
Ensure your pontoon design complies with all U.S. Coast Guard regulations during the design stage. The most obvious regulation concerns the number of life jackets. There must be adequate storage to keep a life jacket for every passenger on the boat.
Step 3
Check the weight of every component that will be included in the boat. This includes pontoons, the decking, the motor and mounts, fuel, steering system, handrails, an anchor, life jackets and life jacket storage, and storage for any other gear such as food or fishing equipment. Include the average weight of the passengers in your calculations.
Step 4
Choose the type of foam to be used in the pontoons. Perhaps the best option is Styrene acrylonitrile. This foam is resistant to water and gasoline and also floats well. This foam offers 58 lbs 8 oz of flotation for every cubic foot of foam, which will help you calculate how much foam is needed to support the weight of all the equipments on the boat.
Step 5
Build the sub-system of the boat. This includes the pontoons, the framing, the decking and the electrical and mechanical components. Take great care when dealing with the electrical components.
Step 6
Finish the assembly of the boat by bolting the frame onto the pontoons. When you have transported the boat to the water, add the steering systems, motor and and decking. Once this is completed, you can begin to enjoy your foam pontoon boat.
Tip
Double check all weight calculations. If you are not experienced in boat design, use a blueprint from the Internet rather than an original design.
Warning
Make sure you follow all US Coast Guard regulations when building a boat and boating. Keep enough life jackets on the boat at all times.