Things You'll Need
Measuring tape

Drill pump

Electric or cordless drills

Pipe wrench

Fuel hose

Hose clamps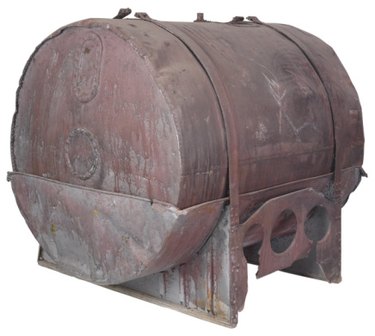 When you replace your heating oil tank or plan to dispose of it, you need to drain it first. Draining fuel from the tank is a simple task if you have the proper tools. The best tool is a drill pump, which allows you to do the job quickly. You can purchase it at the hardware store or rent one at the tool rental store. A self-priming drill pump is best to use, along with plenty of fuel hose to reach both oil tanks. This prevents oil from spilling or contaminating the ground.
Step 1
Measure the distance between the old heating oil tank and the new tank or container. Add about 5 feet to your measurement to allow plenty of slack in the hose.
Step 2
Slide the hose onto the end of the drill pump, with the arrow pointing away from the pump. Some pumps come with a piece of hose to reach down into the tank. If this is the case, attach the hose that reaches the new tank onto the other end of the drill pump. Slide a hose clamp over the hose, up to the drill pump, and tighten the hose clamp to securely attach the hose to the pump.
Step 3
Insert the stem of the drill pump into the end of an electric or cordless drill and tighten the chuck of the drill. Remove the fill pipe off the tank with a pipe wrench, then slide the hose on the pump end of the drill pump down into the tank. You can also push the hose down into the fill pipe instead of removing the fill pipe.
Step 4
Insert the hose on the other end of the pump into the new tank. Press the trigger of the drill to turn on the drill. The drill pump will pump the fuel into the new tank. Remove the hoses from both of the tanks when the old tank is drained.