Things You'll Need
Plexiglass sheet

Drawing pattern

Marker pen

Band saw

Sandpaper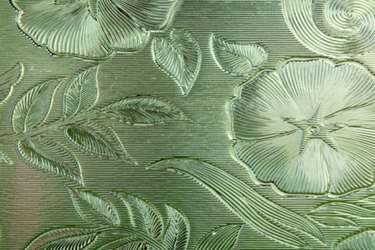 Plexiglass is the trade name for Polymethyl Methacrylate (PMMA), a synthetic polymer that provides a viable alternative to glass. It is a low-cost, lightweight, flexible and impact-proof material that is widely used in interior decoration applications. You can easily create your own work of art by carving designs on plexiglass.
Step 1
Trace the design from your drawing pattern on the plexiglass sheet. Place the plexiglass sheet over the drawing pattern and use a marker pen to draw the design on the plexiglass.
Step 2
Carve out the drawing pattern with a band saw. Position the band saw on the surface of the plexiglass sheet, and carefully run the saw along the design line created by the marker pen. Run the band saw at a speed of 2,300- to 7,500-feet-per-minute. Use a band saw blade between 0.250-inch and 0.375-inch width to cut curves; and 0.50-inch to 0.75-inch width to straight rip or cut large-radius curves on the plexiglass.
Step 3
Rub fine sandpaper over the newly cut edges, once you have finished carving out the design. The sandpaper will give a smooth finish to the plexiglass carving, and also prevent rough edges from forming.
Tip
Always wear goggles and gloves when carving with plexiglass.
Warning
Exercise caution while handling plexiglass, as it can easily be scratched.