Things You'll Need
Safety glasses

Tape measure

6 oak plywood sheets, 3/4-inch thick, 28-by-28-inch

8 pine boards, 2-by-2-by-28-inch

Table saw, with fence

Screw gun

40 wood screws, 2 ½-inch

Sandpaper, medium and fine grade

Tack cloth

Wood stain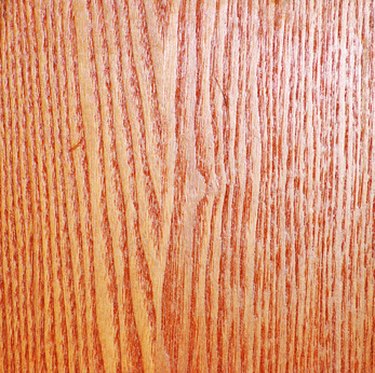 Slot machine stands are usually simple in design, yet decorative, and strong enough to support a heavy slot machine. An easy design will result in a box-like shape that is made out of a decorative hardwood such as oak. Unlike oak boards, oak plywood is relatively easy to work with, and very strong when spanning lengths over 20 inches. Using oak plywood rather than oak boards will cut down on building time because the process of joining boards together to meet the required width is eliminated.
Step 1
Lay a sheet of plywood flat, with the grain vertical. Screw a 28-inch board to the plywood so that it is flush with the top edge, perpendicular to the grain, and so that the ends of the board are flush with the sides of the plywood. Use three screws for this task, and screw the two outer screws 3 inches from each end of the board. Screw the third screw in the 14-inch center of the board. Repeat this process on the opposite end of the plywood with another board, and repeat both of these processes with three more sheets of plywood, using the remaining boards. These are the sides of your slot machine stand.
Step 2
Position the fence on the table saw so that it is 28 inches away from the blade. Set the blades height so that it is 4 inches above the table, and angle it at a 45-degree angle toward the fence.
Step 3
Lay one of the sides flat on the table saw with the boards on top and perpendicular to the blade. Run the side across the table saw, making a 45-degree cut on the side. Rotate this side 180-degrees and perform another cut. Both cuts should slant toward each other at a 45-degree angle. Repeat this process on each side. These 45-degree cuts will form the corners on your stand.
Step 4
Position the four sides upright, so that the 45-degree edges are vertical and touching each other. You should have a cube with two open ends — one open end on the top and the other on the bottom. You may need an extra set of hands to maintain this position. Lay a sheet of plywood on top of the boards, and screw it to the pine boards. Use two screws for each side and space them 20 inches apart, 4 inches away from each corner. Repeat this process on the opposite side.
Step 5
Sand down the stand with your medium, and then fine grade, sandpaper. Wipe the stand down with a tack cloth and apply your wood stain. Let it dry according to the instructions. Your stand is now ready to support the slot machine.
Warning
Always wear safety glasses when using power tools.