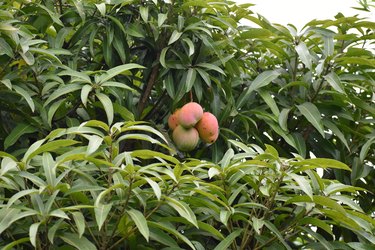 Fire ants on trees aren't always a bad thing. They prey on some other dangerous insects, and when they burrow underground, they help aerate the soil for healthy root growth. Still, fire ants bite humans, and it's extremely painful, making it impossible to care for your trees. Luckily, there are ways to control them.
Using Household Items for Red Ants on a Mango Tree
If you have mango tree ants, there are several things you can try for tree ant protection. One method is to use dry grits or cornmeal. Sprinkle the grits or cornmeal on the ground around the tree's trunk. Both grits and cornmeal are toxic for fire ants, and they will carry them back to their nests and kill many ants. Be aware that the grits and cornmeal are edible and may attract other animals, especially birds.
Mango tree ants like mangos, so put your overripe mangoes to good use by cutting them into pieces and sprinkling them on the ground near the trees. It will attract both the ants and birds, who will also carry off the ants with the fruit and reduce their population. Alternatively, if they've gotten really out of hand, you can also use boiling water on your fire ants. This water will both drown them and burn them to death. You'll have to dump several pots of boiling water on the nests, usually over several days.
How to Stop Ants on Fruit Trees
There are other creative tactics for ant control on fruit trees. One of the most humane and natural ways to control a red ant population is by planting herbs, flowers and other plants that red ants do not like, as the smell will repel the fire ants. For example, fire ants don't like lavender or mint, so you can safely plant both around mango trees and make essential oil or use them in your own recipes. In addition, fire ants hate cucumbers. Save your cucumber peels and spread them around the tree's base to get rid of your fire ants.
You can also try trapping the ants using duct tape. Wrap the duct tape around the tree with the sticky side facing out. When the fire ants try to climb the tree, they will get stuck on the tape. Cut away the duct tape and replace it as needed. Eventually, the ants will seek food elsewhere.
Use a Commercial Ant Killer or Hire an Exterminator
If you've tried all of the homemade tactics and failed, you may need to go with a more heavy-duty option, like using a commercial ant killer or hiring an exterminator. If possible, though, your best option will almost always be to avoid using commercial ant killers because they can be highly toxic and dangerous to other animals that aren't pests. They can also poison the ground and harm your plants, including your fruit trees, flowers and gardens.
You may have more luck hiring an exterminator. They have several products and tactics available that they can use to eliminate the fire ants. When you're deciding which exterminator to hire, you will want to look for an exterminator who uses plant-friendly and animal-friendly practices and poisons. For extra security, you should be as transparent as possible and make it clear that you need to protect your trees and other food sources.