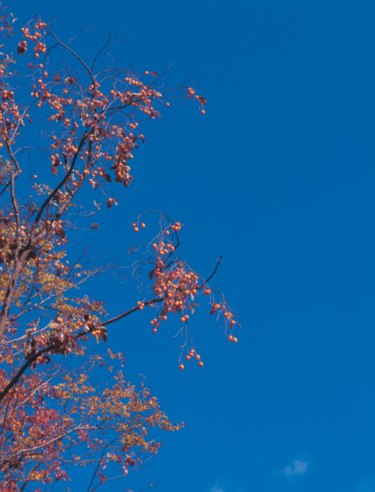 Standard persimmon trees generally grow up to 25 feet tall and at least 25 feet wide at the crown, the fruiting treetop. Dwarf persimmon trees are, in general, simpler to manage and harvest than the standard tree that can soar up to 40 feet tall.
Size
Dwarf persimmon trees are large for dwarf trees, generally reaching 12 to 15 feet at full maturity.
Features
Dwarf persimmon trees, like their regular-sized parent plant, are either multi-trunked or single-stemmed deciduous trees. The tree grows as wide as it does tall, around 25 feet at full maturity. The ornamental tree, native to Asian countries, bursts with bright orange round fruits in warmer months.
Considerations
Dwarf persimmon trees stop fruiting in the colder fall and winter months. However, the persimmon tree has a tendency to break its dormancy during early spring warm spells, which can damage the plant when the first frost arrives.
Shaping
For shaping the dwarf oriental tree, gardeners generally train young persimmons by pruning the low branches from hitting the ground. This pruning technique develops a strong framework for the main branches. Gardeners can also prune dwarf persimmon trees or regular-sized trees as hedges, screens, or as espalier, where the trees' branches lay along a wall or fence.
Expert Insight
The persimmon tree has a compact but spreading growth habit that makes it an ideal container plant. Because of the tree's low maintenance requirements, it is relatively simple for beginning tree gardeners or persimmon fruit enthusiasts to grow.