Things You'll Need
White vinegar

Water

Bowl

Soft-bristled brush

Washing machine

Laundry detergent

Dryer/clothes line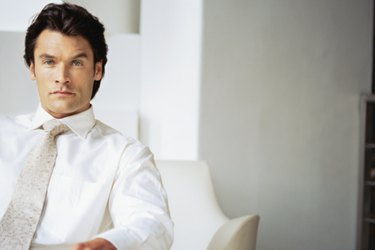 White collared shirts go with a variety of business and casual suits, as well as khakis and jeans. Yellow stains found on the collar of one of these shirts are noticeable and stubborn to remove. Taking the stained collared shirts to a professional cleaner and choosing to discard the shirts are not your only two options. Pre-treating the stained shirts with a homemade solution, as well as strengthening your laundry detergent with a household liquid, lifts these stains and brightens the shirts.
Step 1
Mix 1 tbsp. white vinegar and ½ cup water in a bowl.
Step 2
Dip the brush into the solution. Then, scrub the collar gently with the brush.
Step 3
Leave the solution on the shirt for about 30 minutes.
Step 4
Place the shirt, along with other white clothing articles, into the washing machine.
Step 5
Pour one cup of laundry detergent and one cup of white vinegar into the machine.
Step 6
Run a "Gentle" washing cycle. Dry the clothes as normal.