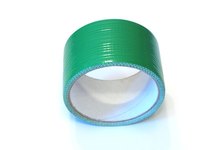 Polyethylene plastic sheeting has a variety of uses in home maintenance. Primarily, it protects walls, floors and furniture from paint or other liquids. It can also be used to seal doors and windows to prevent harmful gases or materials from entering a room. There are several ways to safely seal plastic sheets so nothing can seep through the seams, but duct tape is a simple, practical and inexpensive way to seal two or more plastic sheets for your home project.
Things You'll Need
Polyethylene plastic sheets
Roll of duct tape
Preparing the first sheet
Lay your first sheet down flat on a clean, dry surface. Cut a small piece of tape and tack one end of the sheet down to your surface.
Spread the sheet to ensure it is down flat. Cut another piece of tape and tack it down to the other end of the sheet.
Smooth out the sheet once more to ensure it is completely flat. Adjust a piece of tape if necessary.
Attaching the second sheet
Lay down another sheet with 1 inch overlapping the edge of the first piece. Spread the sheet flat and tack the two ends down -- the same way you did the first sheet.
Cut a piece of tape 1 foot long. Place the edge of the piece at the end of the sheet. Make sure half of the tape is lined up over each sheet.
Stretch it as far as it goes. Hold it slightly above the surface of the sheet with one hand.
With your other hand, quickly swipe the piece of tape down onto the sheet. Smooth out any air bubbles that may appear.
Cut another piece of tape and overlap the edge on the edge of the first piece. Repeat steps 3 through 5 until the two sheets are fully attached. Repeat sections 1 and 2 for as many sheets as necessary.
Covering objects
Repeat steps 2 and 3 from section 2 and tape the sheets to the wall, floor, window, door or whatever needs to be covered.
If necessary, add a second strip of tape over the original piece to strengthen the bond.
Seal all corners and edges as necessary. Add diagonal pieces of tape over each corner.