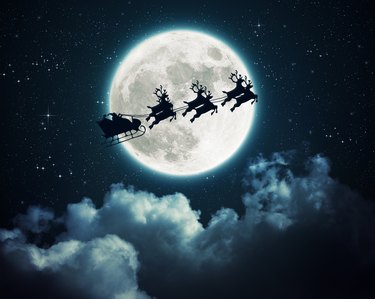 When painting a Christmas sleigh, one color does not fit all. A traditional Christmas Santa sleigh is usually red, but you can also make creative designs using children's sleighs, antique sleighs and dark metal sledges. Search online for pictures for inspiration. You'll notice many of the largest sleighs are placed on the ground, while smaller versions are stood up vertically and decorated. You might wish to start with a red base for a wooden Santa sleigh and go from there.
Painting a Santa Sleigh Decoration
If your sleigh already has paint on it, you will need to sand it down and wipe off all of the residue. To save time on painting, use a spray paint-primer combination product so you won't have to prime the sleigh first. Choose a glossy cherry red for the main part. Buy extra cans to make sure that you have enough. Spray paint can be used on just about any surface, so you can use it for wood, plastic, metal or wicker.
First, use painter's tape to protect the areas near the runner at the bottom, or anything you don't want to be red. Spray on the red paint, allow it to dry, then follow that with black spray paint/primer on the runners.
You can decorate the sleigh with white and gold metallic paint and a paintbrush, but draw on the designs first with a marker. Scrolls look especially nice. If you have a Santa and reindeer to add for embellishment, you can use this same paint.
An all-white sleigh with or without Santa and the reindeer is a modern, clean look. It can also provide a blank canvas to hang up Christmas lights. If you get a lot of snow, however, it will be harder to see the sleigh. These sleds do look nice in warmer climates when there is no threat of snow.
How to Decorate a Sleigh for Christmas
If your sleigh is large enough to sit on your lawn and accommodate Santa, Rudolph and the gang, you can make it look even more festive when you are done painting by adding extras like bells, holly, ribbons and wrapped boxes. Attach all decorations so they won't blow away in the wind; also try to use snowproof and waterproof decor whenever possible.
A popular sleigh design features an antique sled propped up in a corner on a porch. You can use a tartan green and red ribbon tied at the top, with a bell-shaped cookie cutter and bells hanging from it. On the ground next to it, place some bright red poinsettia plants.
Additional Sleigh Decor Ideas
You can also hang a Christmas wreath from a kid's wooden sled. Simply lean it against an outside wall and hang the wreath from the top with colorful holiday ribbons. You can also play upon the all-natural look by hanging pine tree branches and large pine cones.
Another option is to use a small, gold metal sleigh on a tabletop. Fill it with metallic gold, red and green Christmas balls of different sizes, with the addition of some greenery to balance things out.
Mid-size sleighs look nice on the ground next to your Christmas tree, and they can do double-duty as gift holders. Add candles and tree ornaments, and you may also want Santa on the sleigh.