Things You'll Need
Mayonnaise

Olive oil

Bowl

Shower cap

Shampoo

Towel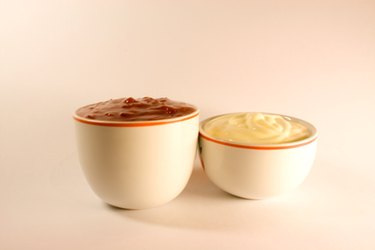 When your scalp becomes overly dry and irritated, it can cause the scalp to itch and flake off into dandruff. Although there are many over-the-counter scalp treatments for itchy or flaky scalp, they often contain strong chemicals that many sensitive individuals may react to. One solution is to use a natural form of treatment to scalp irritation, such as making a nourishing scalp mask from regular mayonnaise combined with olive oil.
Step 1
Combine 1 cup of regular mayonnaise and 1/2 cup of olive oil in a bowl.
Step 2
Wet your hair thoroughly, and spread the mayonnaise mixture onto your scalp.
Step 3
Massage the mayonnaise mixture around your scalp for five minutes using small, circular finger motions.
Step 4
Cover your scalp with a shower cap, and allow the mixture to sit on your scalp for about 20 minutes.
Step 5
Wash the mixture out of your hair with shampoo. Repeat once per week.