Things You'll Need
Foam or rubber pad

Petroleum jelly

Wood dapping tool or wood dowel with dowel cap

Mallet

Silver cream

Cloth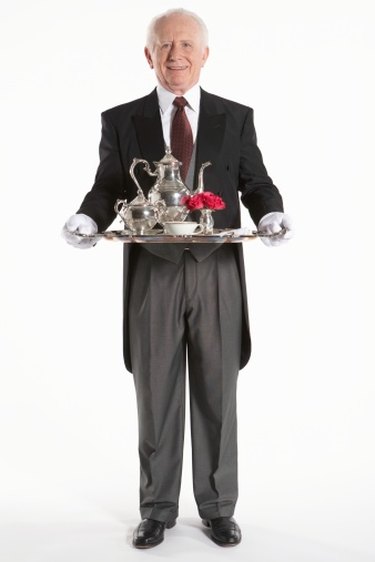 Luminous and regal, silver teapots have an air of classical grace about them. Silver, however, is a highly malleable metal and dings can occur easily. A dent in a silver teapot may never be fully removable by hand and without the help of a professional silver restorer; however, significant dent reduction is possible. Many silver aficionados actually come to see minor blemishes as signs of an object's history of use and something that gives it character and charm.
Step 1
Remove the lid and place the teapot on a foam or rubber pad. Position the dent downward, against the pad.
Step 2
Cover the dent from the inside of teapot with petroleum jelly.
Step 3
Position the head of a wood dapping tool against the dent from the inside of the teapot. A wood dapping tool is a wood stick with a rounded head and looks like a small drumstick. If a dapping tool is not available or if the handle is too short to reach the dent, use a wood dowel with a round dowel cap on the end.
Step 4
Hold the tool at an angle in relation to the dent and tap the back of the tool with a mallet. Tap very lightly and repeatedly while constantly moving the head of the tool around the affected area. Stop tapping frequently to flip the teapot around and inspect the reshaping process. Do not overwork the metal, as it is penetrable and you can wear it down.
Step 5
Spread silver cream onto the teapot using a soft cloth. Buff the cream away gently to polish the silver.