Things You'll Need
Dish soap

Mop

Bucket

Palm sander

220-grit sandpaper

Knee pads

Roller frame

Shed-free roller cover

Roller extension pole

Paint pan

Latex primer

Water hose

Acrylic floor paint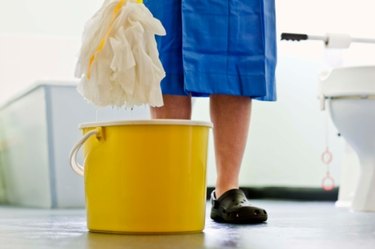 Peel and stick tiles are a relatively inexpensive solution to home remodeling. Unfortunately, once in place, these tiles are difficult to remove. If you've grown tired of the appearance of your tiles, change their appearance with paint. Peel and stick tiles are made of vinyl, which requires special preparation before it will accept a new finish. Employ the same preparatory techniques used by professional painters or you could ruin your tiles.
Step 1
Wash and rinse the peel and stick tiles with a mop. Wait two to three hours for the tiles to dry completely.
Step 2
Sand the entire surface of each tile with 220-grit sandpaper. This abrasion ensures that the primer will stick to the surface of the tile. Since you will be on your knees as you work, you may want to wear knee pads.
Step 3
Assemble the roller by sliding the roller cover onto the frame and screwing the extension pole into the frame.
Step 4
Apply primer to the peel and stick tiles with the roller. Pour 1/2 gallon of primer into the paint pan. Dip the roller into the primer and roll it against the pan to remove drips. Start applying the primer on the side of the room opposite the entrance. Roll vertically and move backward, proceeding toward the entrance. Let the tiles dry for three hours.
Step 5
Wash the tools with water, either outside or in a large sink.
Step 6
Paint the tiles in the manner described in Step 3 (starting at the far wall and working backward toward the door). Acrylic floor paint is a good choice for peel and stick tiles. Don't use a latex finish, as latex may flake or peel.
Warning
Peel and stick tiles are made of vinyl, which means they require sanding prior to painting. Although primer may initially appear to stick to unsanded peel and stick tiles, it will eventually come loose.