Things You'll Need
Pipe wrench

Siphon pump

Rubber hose

Hose clamps

Screwdriver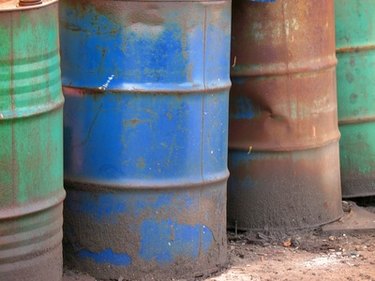 If you have oil left in your old heating oil tank after replacing it with a new one, you can save on fuel expenses by transferring the remaining heating oil to the new tank. All it takes is an inexpensive and easy-to-use siphon pump available at your local hardware store. Siphon pumps come in several varieties. They can be operated by hand, plugged into a wall socket or powered with batteries. The cost will vary depending on the type of pump, but some of the simplest pumps cost less than $5 in January 2011.
Step 1
Remove the 2-inch fill pipe and the vent pipe from the old tank with a pipe wrench. The pipes are usually located in the center of the top of the tank.
Step 2
Lower the pump's inlet hose through the fill pipe of the old tank until it is immersed in the remaining oil. Place the pump's outlet hose into the fill pipe of the new tank. If the outlet hose isn't long enough to reach the new tank, attach another length of hose to the outlet hose and use a screwdriver to secure it with a clamp. Another option is to pump the oil into a plastic gas container, then pour it into the new tank.
Step 3
Turn on the pump if it runs on electricity or begin to squeeze the pump bulb or operate the pump lever if it is operated manually. The oil should start running through the pump hoses and into the new tank.
Step 4
Remove the inlet and outlet hoses from the tanks when the old tank is empty. Reconnect the fill pipe and vent pipe in the new tank. Contact your local building code inspector for information on how to properly dispose of the old tank.
Tip
Hose clamps must be tight so the oil won't leak out as it is transferred to the new tank. To avoid spills, do not remove the pump's outlet hose from the new tank while the pump is siphoning the oil.