Things You'll Need
PC or laptop

Digital photo of person

Graphics program (Adobe Photoshop works best for this)

Internet search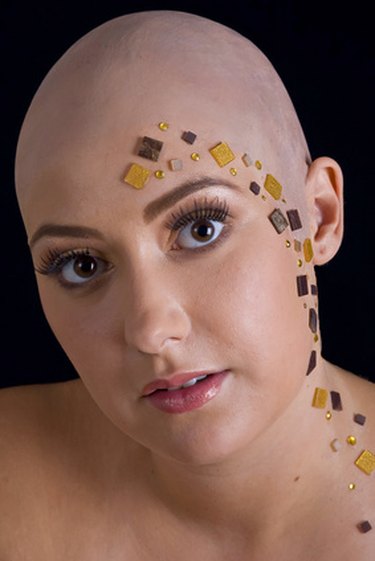 Creating a bald look on a person in a digital photo takes patience and skill using graphics programs such as Adobe Photoshop. The software allows you to copy pixels of skin and duplicate those pixels to cover up the hair. A few tools can assist you with this task.
Step 1
Open a digital photo of yourself or someone else in Adobe Photoshop or another graphics program on your computer. Zoom into the photo and select the "Clone brush" or "Clone stamp" tool. Select a portion of the side of the person's face or head to clone an area with no hair. Position your cursor onto the person's head and start brushing over the hair to remove it.
Step 2
Use the "Healing brush" tool instead, which is easier. Again, select a portion of the head or skin where there is no hair, pressing "Alt" while you press your left mouse button to select. Then, brush over the hair on the head. This will erase the hair but have no effect on the shape of the head, and the skin color will appear in place of the hair.
Step 3
Continue with the above steps and work your way lower if the person has long hair. If the hair is long, copy a portion of the person's shirt or the background to remove the hair with the "healing brush" tool.
Step 4
Browse the Internet to search "how to edit a picture to look bald" if you don't have photo-editing software. There are pages online that offer the service of editing photos to look bald. Upload a photo of yourself or someone else that shows mostly your head to a website that can create virtual baldness, then save the photo to your computer after it gives you the result.
Tip
Adobe Photoshop is the easiest program to use if you are editing a photo to look bald. It also can be done in Corel Paint Shop Pro, but there is no "healing brush" tool in that program.
Warning
Be sure to save your bald image with a different name than your original photo, or you will lose the original image.