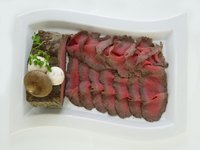 Rotisserie cooking is an easy way to prepare tender meat with a crispy crust and is ideal for cooking an eye round roast. Rotisseries use motorized skewers or baskets to suspend and rotate meat over coals or propane. Cooking the eye of round roast takes a combination of direct and indirect heat to get meat that is tender and moist. Several different rubs and marinates can be used, depending on your personal tastes.
Things You'll Need
Grill (propane or charcoal)
Rotisserie spit
Shallow pan
Rub or marinade of your choice
Preheat the grill to 450 degrees.
Prepare the roast while the grill heats. Apply your seasoning. You can marinate your meat, use a dry rub, or some combination of the two. Grilling Companion recommends leaving the roast out for at least a half hour prior to cooking so it can reach room temperature.
Secure the roast to the spit. Center the roast on the spit and secure the spit to the grill. Cook the roast for 10 minutes at 450 degrees using direct heat. This will ensure the roast has a crispy crust.
Change the grill to indirect heat and reduce the cooking temperature to 250 degrees. At this point put a shallow pan of water under the roast. This will ensure the roast doesn't dry out and will catch drippings so you don't have flare ups. Close the lid and cook for an hour, or until a thermometer inserted into the thickest part of the roast reads 135 to 140 degrees.
Remove the roast from the grill and cover it loosely with foil for about 15 minutes before you carve it.