Things You'll Need
Ethernet cable stripper with punchdown tool

Ethernet wall plate with keystone jack

Screwdriver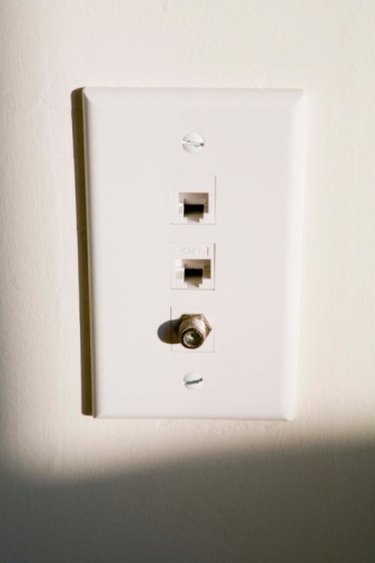 Ethernet cable, also known as Category 5 cable, is used in cabling for computer networks. It can also carry telephone, video signal and connects computers to routers and cable modems. Ethernet cables need specific wall outlets, female receptacles which accept male cables from the specified device. You'll need some specific tools to hook the Ethernet cable to the wall outlet.
Step 1
Place your Ethernet cable stripper over the end of your cable. Ideally you want to place it 1 1/2 to 2 inches in from the end. Close the stripper and twist it around the cable two to three times. Pull the outer jacket off.
Step 2
Separate the wire pairs inside. Each pair will have a colored wire with a white stripe and a white wire with a colored stripe. The colored stripe on the white wire will match the colored wire.
Step 3
Look at the back of your keystone jack. The connector will be labeled to where the wires should go (i.e. blue, white-blue, green, white-green, etc). Push the specified color wire into the corresponding slot and push into place with the punchdown part of the Ethernet cable stripper. Fit the small cap over the back of the keystone jack.
Step 4
Grasp the Ethernet wall plate in one hand and the keystone jack in the other. Align the small lip of the keystone jack with the bottom of an open port on the wall plate. Swing the keystone jack up and it will lock into place on the wall plate. Hook any remainder cables up to the wall plate if you are installing a wall plate that accepts more than one cable.
Step 5
Align the screw holes of the wall plate with the screw holes on the wall box. Fasten the wall plate to the wall box and tighten the screws until snug.
Tip
Always follow the same orientation if you are hooking up different jacks. This will ensure each wire on the cable matches up on both ends. If installing a new jack from an existing wire, unscrew the wall plate on the other end to verify orientation of the wiring.