Things You'll Need
Scissors

Foam brush

Decoupage glue

Sealer spray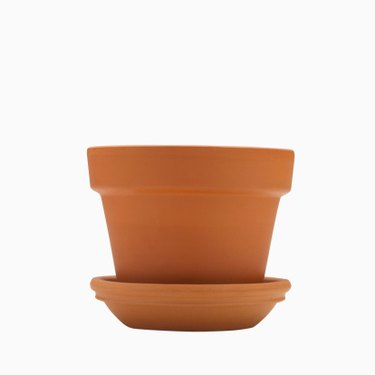 Terra cotta flower pots are readily available and inexpensive, but fairly boring in appearance. Jazz them up by adding photos to their surface. Use photos of people or your favorite artwork. You can also cut the photos from the fronts of seed packets and affix these to the pot, which is especially attractive for potted herb gardens. Use decoupage techniques to create a waterproof design with your pictures so that the pots are as useful as they are attractive.
Step 1
Cut your picture so it fits on the terracotta pot. Use decorative-edge scissors if desired.
Step 2
Coat the surface of the pot with decoupage glue, using a foam paintbrush to smooth the glue on evenly. Smooth the picture onto the glue. Push any air bubbles out from underneath the picture with your fingertips.
Step 3
Brush a second coat of decoupage glue over the top of the picture once the first coat has dried. Allow the second coat to dry completely, then apply another coat.
Step 4
Spray the surface of the pot with an acrylic or polyurethane sealer. The sealer makes the picture waterproof so you can plant in and clean the pot without damaging the art. Allow the sealer to dry for 24 hours.
Tip
Further decorate the pot with painted designs. Alternately, trace around the edges of the picture with puff paint, which gives the appearance of a frame around the art.
Combine mosaic work with the picture. Glue broken glass or flat glass marbles to the surface of the pot, placing them around the picture to form a frame.